Co-founder of the LGBT society, Hamish Archibald, talks about his experience being gender-fluid and dressing up in drag as an expression of art.
While it is safe to say that most people identify with their assigned sex, people's perception of their gender but it is not always black and white. People like former KU student and co-founder of KU LGBT society, Hamish Archibald, bring colour to the perceptions of gender identity.
"It gets really complicated because I am still old enough to remember when sex and gender were the same thing, which is what a lot of people struggle with," Hamish says and pointing to the fact that it is something a lot of people still do not understand.
"To separate the two, to understand that one is the physical character that sticks, and the other one is how you identify."
Hamish describes being gender fluid as 'exhibiting both male and female characteristics' and does not identify more with one than the other.
"I've heard so many times – 'if you want to be a woman just go and be one!' I don't want to be a woman! I don't want to be a female! For a lot of people, it's black and white, there are no shades of grey," he says.
Although he is born a boy, Hamish does not care whether you choose to refer to him as a man or her, as a woman.
"I am not one to define myself by that single facet of meaning. So whether they call me 'him' or 'her' it is not really an issue. Especially if it's some random stranger and you have not said 'this is my preference'. I don't really care – go for it!
"I am physically male, I still exhibit some male characteristics. There is no hard line between one or the other. To me, it's just the same," he says.
Hamish has fallen in love with both men and women in the past, identifies as bisexual and now has a girlfriend.
"My girlfriend thinks she gets the best of both worlds, some days I'll be a boyfriend and some days I'll be a girlfriend."
Hamish describes one day when he left her in the morning before attending a video interview with KU student Lauren Diprose for a movie she made about drag queens.
"I left her that morning, with my hair blonde, looking male. Then her girlfriend comes back in the evening with a red faux hawk and a corset on! So, your boyfriend leaves, your girlfriend comes back. She gets the best of both worlds in one person," Hamish laughs.
Hamish started properly doing drag when he was talked into attending a drag queen pageant last year.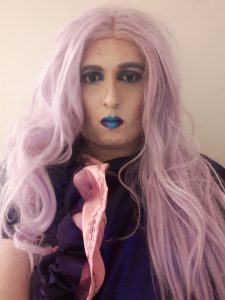 "It wasn't a big leap for me, I am used to going out in makeup anyway. Although, the heels were a killer," Hamish laughs.
He says he wore a pair of "gorgeous stripper heels", but when he switched position after another queen came off the stage, the entire heel of his right shoe broke.
"I was so gutted because I loved the shoes!" he says, but adds that he still completed the competition and even came third.
For Hamish, drag is an art form more than anything else and says he usually draws inspiration from the darker side of things when creating a look.
"Drag has always held a matter up to society in a way. Even from its early beginnings. It is about taking the rules of society and fucking them up," he says.
RuPaul Charles recently announced that he would 'probably not' let any transitioned woman be part of his TV success RuPaul's Drag Race. He said: "At its core, it's a social statement and a big f-you to male-dominated culture. So for men to do it, it's really punk rock, because it's a real rejection of masculinity."
The statement contributed to an uproar within LGBT communities and raised questions as to why men are the only ones who can challenge male culture. Hamish thinks the statement represents pure hypocrisy because drag has always been about challenging the norms of society.
"If you see drag as an art form, you cannot see it as orderly restricted to men. You have to accept that the trans and females would want to do it. RuPaul's latest hypocrisy is one of the most obvious ones.
"How can you be a drag queen, how can you be doing the show about drag and not accept that there's others out there who would want to do it too?" Hamish asks.
Most people who have watched the newest season of RuPaul's Drag Race will remember the heartbreaking scene when the drag queen, Peppermint, admits to being trans.
"It is really, really hypocritical given the amount of support RuPaul has supposedly given to queens who have come out as trans short after [being on the show]," Hamish says.
Hamish explains that there are a lot of debates within the LGBT community about what is the 'right' drag, but for him, it is all about accepting who you are – no matter what that means. Being comfortable with yourself means you are also comfortable with others being who they are.
"You will have days where you have to listen to people and you doubt yourself. That's normal. But when you know your faults, you know your strengths and you know what you are, you got a bastion against all that shit," he says.
It's amazingly free to know that you are you, you are not a stereotype
"So, there's the case of society telling me 'you have to be this' and I go 'fine, I don't give a flying fuck what you're saying, I'll do what I want, thanks.' I'll do it my way."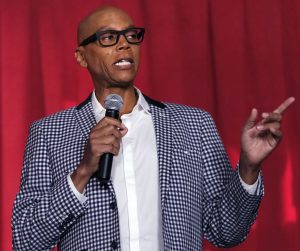 When Hamish went to KU between 2002 and 2005, he and some other friends cooperated with the SU to set up an LGBT society and campaigned for better representation. Staff were happy to help out and in 2005 the society became a reality. However, it was not always easy to be part of the community.
"If anything, these days we are luckier. Society is a lot more accepting," Hamish describes the progression as a gradual, but steady development.
"I did that interview with Lauren and I went back home with my hair up, still with my makeup on, still with a corset and skirt on, still with the boobs in. I got on the bus in Clayhill and off the bus in Kingston. I got a few looks, but that was it," he says.
Hamish explains that in the past, someone like him would have been shunned.
"When I was in primary school at the end of the eighties, you still heard the stories about the AIDS epidemic," he says.
Hysteria flourished and people thought they could not use a public toilet in case they got AIDS. It was not until 2001 that the age of sexual consent between all genders regardless of sexual orientation was equalised and set to 16 in the UK.
In 2005 transgender people were legally admitted to change their gender, the same year same-sex couples were given the right to civil partnership.
Hamish says that there is a lot more that could still be done when it comes to educating people about gender fluidity, but underlines that things have definitely progressed a lot during his 35-year long lifetime.
"A couple of years ago I was walking through my hometown. I was walking up past the new building that's replaced my old school.
"When I was in school, to be called 'gay' was an insult. A couple of years later, I was walking up that hill and standing in front of me was this lesbian couple holding hands, walking back up to the school. That's how much things have changed."
Watch Hamish Archibald feature in KU student Lauren Diprose's short film about drag queens below: