Kingston University qualified for the British Universities Karting Championships after finishing in the top 40 teams in Sunday's qualifiers.
They will race in the intermediate league after finishing just three places below the final premier league qualifying spot.
"I think we're definitely stronger this year than we were last year," karting president Sam Righton, 21, told The River.
"Last season was probably the worst season I've been involved with.
"But everyone has an extra year's experience this time and, judging by the qualifiers, I think it will be much better this year in terms of results."
A poor season
Last year the Kingston Original Karting Society (KOKS) finished 40th out of 54 teams, but hopes are higher this season.
Righton blames this on a mixture of bad luck and a lack of consistency within the teams.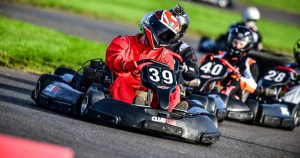 "We were mixing drivers quite a lot so there wasn't any continuity throughout the season," he said.
"It's like we didn't know who our best drivers were for the separate teams.
"Also we weren't slow I think we were just extremely unlucky with getting involved with incidences."
New season optimism
But captain Andrew Hunt, 20, is optimistic that his team can come away with a few impressive races in the coming campaign.
"My hope for this year is to be one of the top intermediate teams," Hunt said
"As we only narrowly missed out on being a premier team, I'd like us to get on the podium at least once."
Up and coming stars
One of the team's brightest prospects, James Manning, was on course for a podium finish during Sunday's qualifiers as he went into the last lap in third place, a position that might have given the team a premier league spot
But the first year student spun off the track on the final lap and had to settle for 11th and the team had to settle for an intermediate place.
Vice President Adrian Jarych, 21, praised Manning's effort.
"He's done some karting before and was doing a very good job in qualifying.
"But he got pushed on the last lap when he was in third and was forced wide which resulted in him spinning out and going off the track."
The B team
While the A team qualified for the national tournament, the B team did not and will have to compete in the rooky league for the year.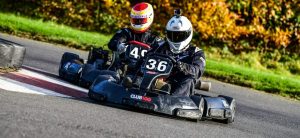 But the drivers have found the positives in this.
"We've got so many people in the society who are interested," Hunt said.
"So I'd like to get as many of them in the karts as possible just to give them a go, and the experience should benefit us next year as well as they'll be more used to racing."
Righton is also excited, saying: "What tends to happen is we get a whole bunch of people interested at the start of the year, and that just drops off massively by about November when everyone realises how expensive it is.
Fresh enthusiasm
"But I'm glad to say we have a lot of freshers who are committed to doing a lot of races this year."
Each team competing in the championships use identical karts provided by the race organisers Club 100.
They each have 115cc engines, can reach top speeds of 70mph and can go from five to 60mph in 4.5 seconds.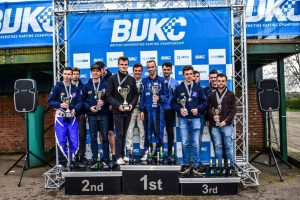 "It's probably a good thing all the karts are the same," Hunt said.
"It gets rid of the excuse that people are working on their karts to gain an advantage and leaves the racing solely to driving talent."
The Kingston team will get their 2018 campaign underway on January 31 alongside their 26 rival universities from across the UK at Buckmore Park in Kent.
They will compete in eight different events with two races at each.
Last year Loughborough triumphed, pipping Oxford Brookes to the title by 30 points.
You can watch highlights of last year's final race below.