The KU women's football team thrashed league leaders Buckinghamshire New University 8-0 at Tolworth Court on Wednesday.
KULFC dominated the field from start to finish, with Buckinghamshire's only goal being ruled out for a controversial foul on their own player.
"I feel proud and happy considering we had had lots of girls who couldn't play this week because of injuries and illness," captain Anna Øglænd said.
"We had some new players. A couple of them had never played with us before, so that was really good."
Off to a great start
The first goal came within the first four minutes from striker Pauline Hontanosas, setting the bar for the rest of the match.
Three other goals followed in the first half, with striker Diana Marcela scoring the second one.
A great shot from Hontanosas and a third from left wing-back Caroline Simonsen meant Kingston could celebrate a 4-0 lead at half time.
Hontanosas claimed her hat-trick in the 49th minute, when the sprinter dribbled past the Buck New University's defence and sent the ball flying into the net past the helpless goalkeeper.
Another goal followed from KULFC's debut player Kajin Alice who, caught between several players on the left side, fired an outrageous shot into the right-hand corner giving Kingston a 6-0 lead in the 70th minute.
"I think all the girls played really well, but I want to give a shoutout to the new girl Alice who hasn't been training with us," Øglænd said.
"Also Ellie, our goalkeeper did so well today. Other than that, I think the whole team played really well together."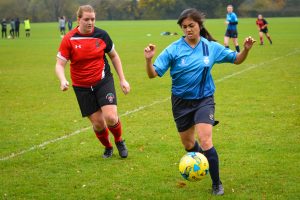 A controversial foul 
The second half saw two goalkeeper mistakes from KULFC's Elisha Bowers, but her teammates came to the rescue on both occasions, first by defender Karoline Henriksen and second by winger Øglænd.
Bowers was mostly in control throughout and, together with an outstanding job from defence, saved several attacks from the other team.
In an attempted tackle, a Buck New University player slid in to try to win the ball from KU defender Mary Phipps, but in doing so took a boot to her face.
This led to confusion between KU players, giving the Bucks their only chance to score, but the goal was quickly ruled out by the referee following the tackle.
The referee called for a free kick to the Buck New University team, but they fired their shot high over the crossbar.
The last two goals came within the final 15 minutes of the match, first from Elishka Josipovic and then another one by Simonsen, leading to an astonishing 8-0 win.
"It was about time that we won," Øglænd said. "It's very promising as this is our second league match. The first one we drew, this one we won, so that means we move up and have a chance of winning the league, hopefully, that's our goal."