Kingston's Karting team have earned a well deserved podium position in their first race day of the season.
This year's performance was a significant improvement on the last British Universities Karting Competition's outing, with the team climbing 30 places to finish tenth out of 54 British universities. The karters also sped into a bronze medal position in their intermediate class which is what the team were aiming for.
The first round of the championships on Wednesday 31 January was hindered by treacherous conditions due to drizzly weather all day. Oxford Brookes were overall winners on the afternoon, beating defending champions Loughborough to win the premier division gold medal.
"I am so happy that we achieved an intermediate medal position, I said in my interview with The River in November that I wanted to achieve this and that's what we did," said 20-year-old karting captain Andrew Hunt.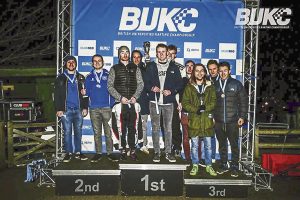 "However, I am disappointed with my own performance as I made a couple of silly mistakes and they cost me badly."
Hunt blamed his performance in his individual sprint race on the difficult conditions at Buckmore Park, in Kent. He also bemoaned his poor start.
He had started the afternoon in third on the grid but told The River that the karter on pole position was slow getting off meaning his start was significantly hindered.
"I clawed my way back to tenth after my poor start, only to spin out of control due to weather. Luckily Adrian had a great sprint race and was pivotal in the endurance race to earn us that medal."
The race day itself contained two rounds, a sprint race and an endurance race. The sprint involves four drivers from each team individually racing for 25 minutes at a time.
The endurance race takes place in the afternoon and was where Kingston excelled. Teams take it in turns to drive, almost like an athletics relay.
Kingston's four, Hunt, Adrian Jarych, Sam Righton and James Mansion finished tenth here. This was the teams highest position of the afternoon, which was enough to earn them a medal in their class.
The karts used, can reach top speeds of 70mph and can go from five to 60mph in just under five seconds.
All the karts are the same model which means skill of driving is vital if racers want to earn a medal.
"The adrenaline that karting gives you is something that no other sport can match," said 22-year-old automotive engineering student Jarych.
"I am so pleased about both my races and glad the conditions were drier by the time I raced as they looked tougher in the morning, I am so glad we got a medal."
Jarych was Kingston's saviour on the day, finishing tenth in his sprint race and driving a pivotal stint in the endurance race to ensure another tenth position.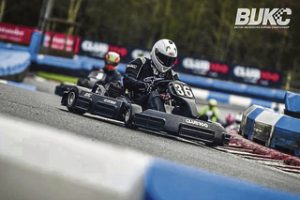 Kingston's karters next BUCK's outing is at the Whilton Mill track in Daventry on February 13, where the team are aiming for gold in the intermediate class.
Whilw Hunt is hoping for more medals and success in Daventry, he stressed that his main priority for the season is staying out of any crashes and avoiding serious harm.
"It's a dangerous sport so my main priority for the season is making sure that we all can race each week and not take any unnecessary risks."
Here are some of the UK Karter's in action in last years super final: