A Kingston University student has said he wants to be the best runner in the world after his 400M England athletics debut win in Slovakia.
Jamal- Marcus- Rhoden-Stevens spoke to The River about his battle with injuries, balancing his hectic life and his Michael Johnson inspired dream to one day be the world's best.
"I want to be an Olympian there is no doubt about that. The goal is Tokyo 2020, simple as that," said Rhoden-Stevens after speaking to The River.
"I want to be the best 400 metre runner in the world and want to set a world record and I believe I can do that,
"I know every athlete says this, but I really believe I have the ability, I think my confidence is my best asset, I know a lot of people are confident, but I believe in my ability so much.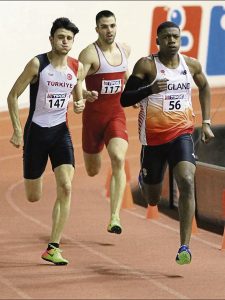 "If I get it right, I know what I'm capable of, this is only the beginning," said 23-year-old Rhoden-Stevens.
Rhoden-Stevens was speaking after a debut win in Bratislava in Slovakia in mid-January, where he beat athletes from Turkey and Poland for his country. England Athletics host this meeting each year as an opportunity for young athletes to showcase their talent on the national stage
Despite the call-up being a surprise for him, the sprinter believes his win has put himself in contention for a call up to the Great Britain team for the world indoor championships in Birmingham later this year.
However, Rhoden-Stevens was still critical on the pace of his race in Slovakia: "I can definitely run quicker than that.
"The nature of the track and the pace of the other athletes meant I ran a bit of a slower race than I normally would have, and the time wasn't my best."
Despite his self-confidence, Rhoden-Stevens sharp rise through the rankings comes as a surprise to him.
He said that he had always been quick at school but never thought much of it. He only took track racing seriously four years ago, after giving up semi-professional football.
"I have always been quick, but it was actually my dad who suggested I should take the running more seriously and see if I could make something of it and luckily I have.
"I also used to be good at the short stuff, the 100 metres and 200 metres but unfortunately a few hamstring injuries hindered my progress.
"Because of my hamstrings I took a bit of pressure of the short and sharp stuff that stresses them more and tried the 400, this was only two years ago and now I'm one of the best in England."
Rhoden-Stevens said his biggest inspiration was former 400 metre world record holder Michael Johnson, praising his iconic status and unique technique resonating with him when he was a child.
The second-year biomedical student also spoke of how challenging it can be balancing university life and chasing his Olympic aspirations. He is also an evangelist, with his Twitter bio claiming to be the 'fastest evangelist in the world.'
"During competition times I like my mind to be fresh so it is definitely hard trying to balance university life and chasing my dream.
"I train about five or six times a week, so along with university work on top of that it is a lot to handle sometimes and does get really hectic.
"Even when you do not have much on at university and I should be doing work the training does shatter me out, but it is worth it."
Rhoden-Stevens drive is clear to see and he believes his self-confidence will take him all the way from Kingston to Tokyo and beyond.