Kingston University's men's hockey team face being knocked out of the league after two players suffered head injuries in a 2-0 defeat against Sussex.
Midfielder Josh Chana slammed into the ground shortly after Sussex's second goal as he tried to keep them from getting another shot six and a half minutes before half time.
Chana said: "It was a cross goal and I just dived in and went to swipe it away and I think I got a stick to the head, I can't remember."
The game was stopped, as Chana's team rushed to come to his aid, and did not resume for several minutes.
Chana was bleeding from a deep cut on his head that needed stitches and he was taken off the pitch where his head was wrapped in a bandage until he could be taken to hospital after the game.
Kingston began the game at the bottom of the BUCS league South Eastern 2A and face being relegated after the defeat.
Kingston's hockey captain Tom Banner said: "I'm disappointed we lost. I thought we got a bit sloppy and I think we could have won. It didn't help getting two injuries, obviously. They were just fitter than us, I guess."
Forward Ben Spencer kicked off the game and the ball stayed with Kingston's team passing from player to player until Sussex's Charlie Partridge intercepted it.
After a hopeful start, Kingston's players had the ball less and less as Sussex kept in control.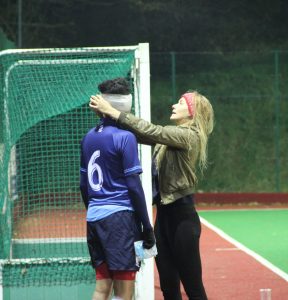 Both of Sussex's goals were scored in the first half of the match as Toby Price scored Sussex's first goal 10 minutes before half time and the second goal came soon after.
Banner said: "Everything from them was coming in from the base line and we just couldn't really handle it."
In the second half Kingston scored a goal which was not counted as it was shot from outside the shooting circle.
Kingston suffered another hit when Josh Barron was smacked in the face by the ball.
Barron suffered minor cuts to his face and bled from his nose. He was given a plaster for his forehead before he returned to the pitch to play.
He did not play for very long after he ran off and complained that he felt like he was "choking on blood".
The loss comes shortly after Kingston striker William Calnan, who tried out for the English national team, broke his foot and Banner hopes that when he returns they will have more luck.
Banner said: "Hopefully we can go and beat a few teams and stay in the league."