It was quite an average week for Kingston, winning 6 fixtures out of 14, drawing one and losing seven.
However, two teams lost their relegation battles this week. Both the first teams of the women's football and basketball got relegated.
The women's football team have just one game left to play, and the women's basketball team have two.
It is the men's hockey side that stood out and gave us something to cheer about. They are now top of their league with only three games left to play.
Football
It was not a good week for Kingston's football teams with the first teams of both the men's and women's teams both suffering 3-2 defeats.
The men's side lost 3-2 away to Imperial College London second team, meaning they are now six points from St Mary's at the top of the BUCS South Eastern 4C league, with only two matches left.
On March 8, Kingston will play London School of Economics second team, who are currently in third place, one position above Kingston.
The women's team have had a poor season this year, and despite fighting hard in their relegation battle, they lost 3-2 away to Royal Holloway, University of London first team and thus got relegated from the BUCS South Eastern 2B league.
Kingston were 2-0 up for most of the game via goals by Emily Chacon and Anna Ogland, but in the last 25 minutes Royal Holloway managed to score three to grab the win.
Kingston's captain Hollie Clapham said: "It was a tough match. We had no subs and a player even had to ask one of the other teams for a player.
"I feel we were the better team but it was just down to our fitness at the end. We played one of our outfield players, Naomi Pointing in goal due to an injury and she had a really good game!"
They are at the bottom of the league with four points, five away from Royal Holloway who beat them to safety, making it impossible for them to stay up because they only have one game left.
They will play their last game in this league on March 15 at home to University of Kent first team.
Performance of the week
The men's rugby beat University of East London 27-17 in an away match, and put up an impressive performance.
Captain Bahador Eskandari was pleased with his side's performance and thought they did enough to win.
"Unfortunately I wasn't there on Wednesday, but what I've heard we played really well kept our cool and put everything we practice on the pitch."
They sit bottom of the BUCS South Eastern 4A league with 12 points, just one point away from Reading University third team.
On March 1, Kingston will play Imperial College London's fourth team to collect more points, and hopes Reading University will slip up against league leaders Portsmouth University.
Eskandari said: "Regarding the league, we have a tough couple weeks. The last league game is this Wednesday against Imperial, and if we win and some results come in our favour we will stay up.
"I'm fully confident in that can be done. We have a great squad and it has shown through our cup run."
Story of the week
The men's hockey team beat fellow title contenders Reading University third team 2-1 to stay top of the BUCS South Eastern 3A league.
Captain Chris Rodgers was pleased with his side winning this tough match.
He said: "We knew it was going to be a hard game so we just had to try harder to try and play around them.
"They're a well drilled team so they know where to be and what to do so we just had to try and play around them and find the gaps as and when we could."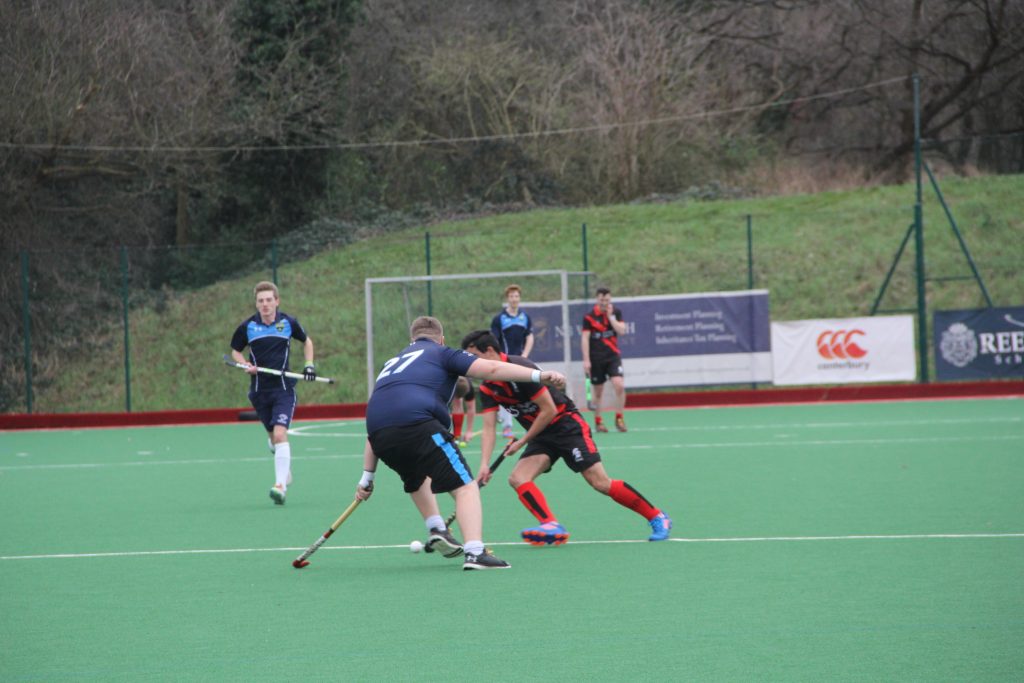 Kingston are top of the league with 18 points and a game in hand. They only have three matches left to play in the league.
He said: "I think we should win the league. It's looking promising but only time will tell."
On March 8 they will play University College London third team at home.
Full KU Results with Kingston in italics
Football
Imperial College London Men's Second Team 3-2 Kingston University Men's First Team
Royal Holloway, University of London Women's First Team 3-2 Kingston University Women's First Team
American Football
Kingston University Mixed First Team 14-27 Swansea University Mixed First Team
Rugby
University of East London Men's First Team 17-27 Kingston University Men's First Team
Kingston University Women's First Team 10-69 Imperial College London Women's First Team
Basketball
University of Surrey Women's First Team 73-37 Kingston University Women's First Team
Tennis
Imperial College London Men's Fourth Team 6-6 Kingston University Men's First Team
Hockey
Kingston University Men's First Team 2-1 Reading University Men's Third Team
Kingston University Women's First Team 3-1 London School of Economics Women's First Team
Lacrosse
University of Chichester Men's First Team 2-23 Kingston University Men's First Team
Kingston University Women's First Team 0-24 University College London Women's Second Team
Netball
University of Surrey Women's Second Team 46-44 Kingston University Women's First Team
Badminton
Kingston University Men's First Team 6-2 University of Brighton Men's First Team
Kingston University Women's First Team 7-1 Canterbury of Christ Church Women's First Team