KU is in the process of creating its own student-led radio station.
The station, based at Coombehurst House, Kingston Hill Campus, will use equipment such as mics, turntables and computers that have been donated by the music department.
The idea to create a radio station came from the introduction of a broadcasting module for BA music students.
Sarah Nichol, the lecturer who will manage the station, said: "It surprised me that KU didn't have its own radio station, you can create so much culture and inclusivity from it.
Nichol hopes to build the station over time.
"This will start off primarily as a music station, but in the future, we're looking to do talk shows, comedy. If anyone has an idea within reason pitch it to us."
KU Radio will be broadcast on the platform Airtime, which allows access from any point due to its open-source software.
"Airtime had a competition at the start of the academic year, open to all universities, to receive Airtime as a playout system. It gave us a massive incentive to get the radio station going."
A springboard
The tagline for the radio is "your voice, hear" and the emphasis will be on all students from diverse backgrounds getting involved and getting their voices heard.
"I put an open call out for volunteers for the radio station and we've had such an amazing response so far, I'm currently working with graphics students to help design logos as we want to be visible as well as heard," said Nichol.
With an aim to be fully live and operational after the Easter holiday, Nichol said: "The radio is coming along really nicely and easily as well, the University has been really supportive and super helpful with everything.
"Hopefully this will be a springboard for anyone who wants to start a radio career."
If you want to get involved with KU's radio station or have any ideas, contact Sarah Nichol at s.nicol@kingston.ac.uk.
You can listen to KU radio at https://kuradio.airtime.pro/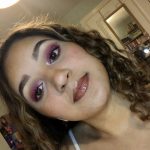 She/Her
Third-year journalism student at Kingston University
I like to write about sustainability, social issues, feminism and pop culture.