Kingston University Senior Lecturer and nursing expert, Judith Francois has been named Most Innovative Teacher of the Year in the Times Higher Education Awards 2020.
Selected from a number of nominations, Francois was one of eight teachers and lecturers across the country who was entered for the awards.
The award recognised Francois for building a more inclusive curriculum, by leading a workshop for black and ethnic minority (BAME) students to explore their background and increase their sense of belonging.
Francois said: "I feel absolutely fantastic to have received such a prestigious National Award. It means the validation of my perspectives that teaching and learning spaces, are places where all are growing and building together.
"This means there is a two-way process in which the teacher and student are both contributors to learning. A move away from didactic teaching and production of more personalised culture, through which all things are possible."
The KU lecturer describes it "a dream goal" to have helped her students achieve the values that she has learnt throughout her career.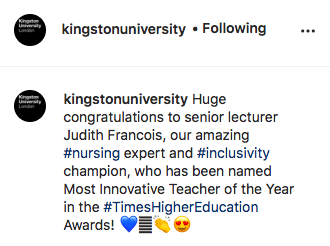 Francois had not thought about going into the world of teaching. She was on the lookout to join somewhere where her creativity could show, whilst helping others be the best version of themselves and a place her passion for nursing would be valued. That place was Kingston University.
"I guess the word creative was a complete draw. For me I envisaged the chance to be in a place where having a different approach would be valued. So, I applied and the rest is history," said Francois.
The KU lecturer says she feels "a bit like a lottery winner". She hasn't yet decided what's next for her. Despite this, Francois believes there is a world of opportunities.
Francois said: "It's been a couple of days, so I am working on the mind shift, to move to the world of possibilities. However, that doesn't mean I will leave some of the projects I am currently involved in and will be planning to share one of my initiatives more widely through an App.
"I'm really excited to be already working with Kingston students to develop and make this happen."
The senior lecturer says that so many people encouraged her ideas and that "you can't move" without that support. Francois would like to thank the people who helped and continue to help her in her teaching and leadership career.
"A big thank you to the students who constantly inspire me, and my colleagues who support my 'out of the box' ideas. But of course, the most thanks have to go to the family and friends who have constantly been there to support this journey," said Francois.