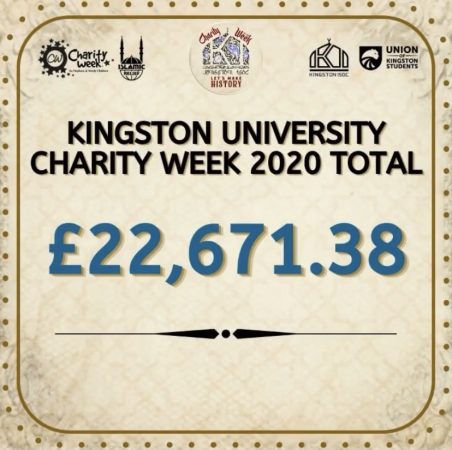 Kingston University's Islamic society (ISOC) has raised a total of £22,671.38 during this year's Charity Week to help orphans and vulnerable children all over the world.
Islamic societies up and down the country took part in Charity Week 2020. with events and challenges online and some on campus to raise money for causes in countries including Lebanon, Syria and Palestine.
Charity Week is an international volunteer-led unity project that brings people together across the world to fundraise for orphans and vulnerable children.
Kingston's ISOC announced on their Instagram page: "With the permission of Allah and everyone who has generously donated, £22,671.38 was raised by Kingston University this Charity Week! This is what unity can do."
Despite Covid-19 restrictions, KU's Islamic society still managed to hold events online and on campus. There was a baking masterclass, a games night, special talks by guest speakers and an online auction which was the grand finale of charity week.
Charity week also created a challenge in which each Islamic society had to gain donations of £1 every day during the week. By the end, the winner with the most donations would have a prize of £1000 added to their total.
Kingston's ISOC social media accounts helped promote the hashtags #pound4kingston and #quid4kingston to gain as many supporters as possible during the week.
Charity Week congratulated KU's ISOC on Instagram after they announced their total: "KINGSTON! You have done an AMAZING job this year, truly put the legend in London! May Allah swt reward you immensely for all your hard work."
Over the past five years, Kingston University's Islamic society has raised a total of £107,217.20. The society hopes that, that total will continue rising with many more charity weeks to come.
Registration for next year's charity week is now open. Click here to get involved.