Chloe Francesca Metzger was 11 when the bullying started, leading to years of depression and anxiety. Hanne Olsen sat down with her to learn how she turned everything around at KU.
The bullying started when Chloe Francesca Metzger was only 11 years old. She was bullied on a daily basis, and it led to a state of constantly feeling unhappy. At one point she even told her mom that she did not see the point of living anymore.
"It was really worrying to my mum, that I as an 11 year old was just feeling so deeply unhappy," Metzger says.
She made friends with the students that were a year above her, and the bullying stopped for a couple of years. But when they left school Metzger was alone and the bullying picked up again. When she looks back at it there are big chunks of school she just cannot remember.
"I appreciate things more now because I've been that ill," Metzger says. "I get so excited about the little things, like getting into University. A lot of people at my school told me I would never go to University."
Now, things are different. After starting her English Literature degree, the KU student has turned her life around to something positive. The Second Year of the Year award is given each year to the most promising second-year student at KU. This year, Metzger is one of the students shortlisted for it, along with an award for Overcoming Adversity to Achieve.
"I don't want to be a victim of an illness. The more I work through my illness the more I can confront it now," she says. After being diagnosed with anxiety and depression two years ago, Metzger now knows that she has a low level of serotonin in her body.
After coming to Kingston University, Metzger has managed to turn her negative experiences into something positive. Even though she still has days when she finds it hard to even get out of bed, she is doing a lot better. She has sought help from a mentor at University, and together they have come up with solutions to deal with Metzger's depression and anxiety. She has campaigned for mental health awareness, and last year she did a speech at the Kingston University Diversity Conference. After the speech people came up to her and asked questions and wanted her advice on their personal issues. "It was amazing and really refreshing. It's really good to help," Metzger said. "It took a long time, and there were times when I didn't think I'd come out of it. I didn't see a light at the end of the tunnel. I just thought I was going to be unhappy for the rest of my life. It was the worst, and I'm always conscious about it, no matter how well I'm doing."
She writes a blog about her depression, and what it is like living with it. Her goal for the future is to make a profession out of the blog. She tries to be really honest in her text, and not sugar-coat anything. The blog is updated almost daily and her readers are very encouraging. She hopes that her blog can help people deal with mental illness.
"The doctors defined it as low mood, even though I had moments at school when I was suicidal. When you're that poorly it's very hard to talk to anyone else. I never want to get to that point again, it's the most terrifying thing," Metzger said. "If I can stop someone from getting to that point, or not feeling alone when they're getting to that point I think I've made the best out of a really bad situation that I was in."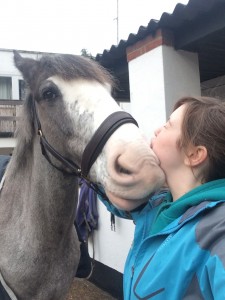 In addition to the blog, she finds a lot of comfort in horse riding. She is a member of the horse riding society, and goes to the stable every Wednesday. She says it brings her serenity and enables her to shut everything but the horse out. Metzger is also a singer in a band called No People Club. She writes all the lyrics, and they are based on her personal experiences. "If anything's therapeutic, it's lyrics. I can get anything from my life on paper," she said.
Her goals for the future are many. She wants to continue helping people overcome mental illness. Her band is on the rise, and they are doing gigs almost every weekend in March, and at least once a month till July. Her main problem now is that she has almost too much on her plate and she loves every second of it. She still has bad days but she knows how to cope with it, and takes great comfort in the support of her partner, friends and family. "I got the help I need for my illness which enabled me to be able to handle more than I did last year. I will not let my depression define me as a person. I've got so much more going for me to be proud of," Metzger said. "There are still people who you tell and they treat you differently. It's like they think you can affect crazy on them. I don't want to be that girl who had depression; I want to be the girl that's done anything and everything. I don't stop; sometimes that's even my problem."