Summer, friends, beer, camping and music – we all know that good festival feeling, but how much are you actually willing to pay for that feeling? Tickets to most festivals are already expensive, but how much more are you prepared to pay when tickets are sold out and you are forced to turn to an overpriced black market?
'Sold out' is usually not a stop sign for persistent festival attendees, so here are some tips on how to get into festivals for free or at a very low price once those tickets are sold out:
You might find inspiration from Marcus Haney, the guy who got into Coachella, Bonnaroo, Glastonbury and the Grammy's for free and made a film about it, or you can just get in and enjoy the crazy atmosphere festivals bring with them.
Volunteering is probably the top tip and underneath you can read about the experience some Kingston students had.
Heather Brandon, 21, worked as a steward at Reading Festival and at Bestival to make her way in to the festivals last summer.
She said: "It was the hardest job I've ever worked due to the long hours with no breaks but it was so much fun, my team was hilarious and the people I met were brilliant.
"You don't get to see a lot of bands but you can hear them and purely for the atmosphere I'm doing again this summer."
At Reading Festival 2014 she worked 16 to 18 hours shifts selling tents, jumpers, headbands and other accessories. She also said that she would not get any sleep because of all the noise from the main camp site, but that it was still worth it.
At Bestival, Brandon volunteered with Oxfam, where she had to work up to eight hour shifts.
She said: "We were stewarding, mostly telling people where the toilets and the main stage were.
"I had to look after a guy who was so high he didn't know he'd hit his head on concrete."
Regardless of the extra responsibility she had, Brandon strongly recommends volunteering with Oxfam.
She said: "You have a big staff camping and get food vouchers so it's a lot more like the festival feel."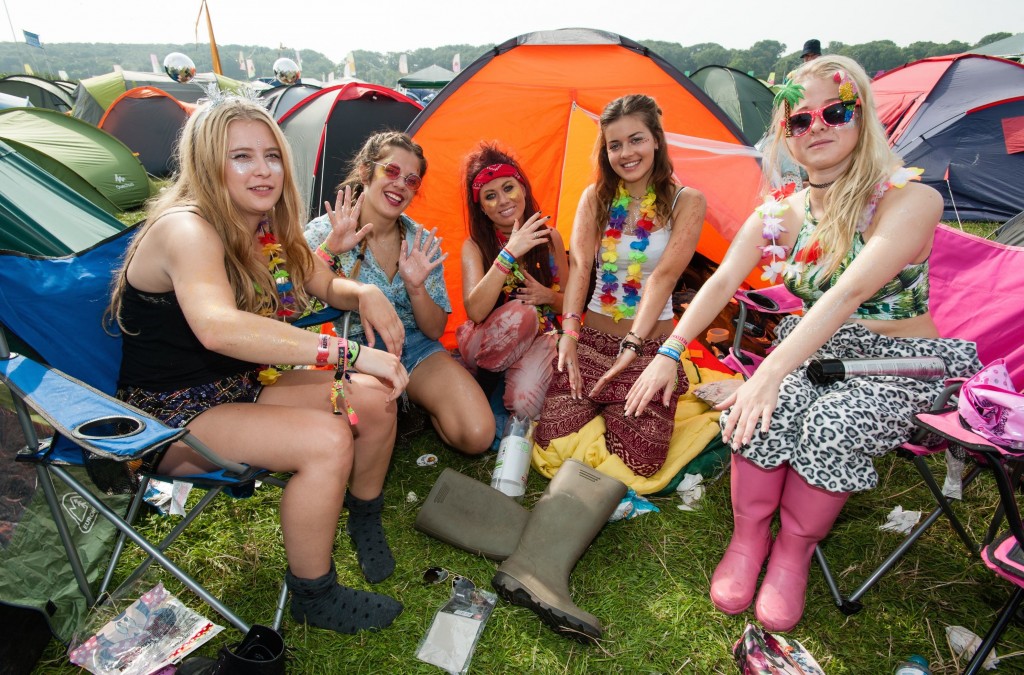 Another volunteer, Frederica Longfoot, 22, a final year biomedical science student volunteered at Glastonbury last summer and hopes to do the same thing this year.
She paid a £200 deposit before the festival, worked 24 hours on the wristband gates and got the money back at the end of the week.
"We had separate camping up by Michael Eavis' house which was much nicer, with showers and electricity," she said.
Michael Eavis is the founder of the Glastonbury Festival, which takes place on his farm.
Longfoot said that she unsuccessfully tried to buy tickets on sale and had to apply for the role by sending a CV and completing a questionnaire.
She offers a few tips for those who not want to work and just get in for free:
"Family friends also set up a fundraising stall and got in for free on a vendor's ticket, they had a separate campsite too."
She also tried buying tickets to Tomorrowland this year and waited in an online queue for two hours only to be unsuccessful.
"A group of friends went straight onto an online ticket marketplace and bought tickets for £600 each, when they are normally about €200," said Longfoot.
Altogether there are many ways to get into festivals if tickets are sold out but the safest, easiest, risk-free and student-friendly one is certainly volunteering. Besides that, one can always one's luck at jumping fences, buying second-hand tickets, or befriending bands.