The recent case of Mason Greenwood has once again drawn attention to the difficulties victims of sexual assault face when seeking justice.
The Manchester United footballer was arrested in January 2022 as a result of images and videos circulated on social media. He was later charged with attempted rape, controlling and coercive behaviour and assault occasioning actual bodily harm.
The charges were dropped by the Crown Prosecution Service which said the case was discontinued after key witnesses withdrew from the case.
A CPS spokesman said: "In this case a combination of the withdrawal of key witnesses and new material that came to light meant there was no longer a realistic prospect of conviction. In these circumstances, we are under a duty to stop the case."
They went on to say: "We would always encourage any potential victims to come forward and report to police and we will prosecute wherever our legal test is met." which raises the question as to whether that test is working for victims.
The conviction rates for rape are horribly low, with police recording 55,130 rapes in England and Wales in 2019, with only 1,439 people being convicted.
When cases collapse, faith in the system takes another blow.
Alicia Christine, a third-year philosophy student at Roehampton University, said: "Women aren't safe and this just shows that nobody cares."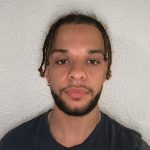 Video/Podcast Editor
Interests include: Sport, Health and Wellness, Lifestyle, Arts & Entertainment, Fashion