The Harder They Fall is a brilliant new addition to the western genre. It shines a light on historical figures that have been overlooked in the past.
The film makes it clear from the spectacular opening credits that there will be an overarching conflict between the two gangs of outlaws that we follow throughout.
On one side, we have the Nat Love gang led by Nat Love , played by Jonathon Majors. He seeks revenge against escaped prisoner, Idris Elba's Rufus Buck and his gang who all seize control of a small town.
The women featured also stand out. Traditionally women in the western genre were usually representations of the main hero's home and often act as damsels in distress.
While Zazie Beetz' character, Mary, does fulfil the damsel in distress role, it is clear by the end of the film that she is fully capable of holding her own.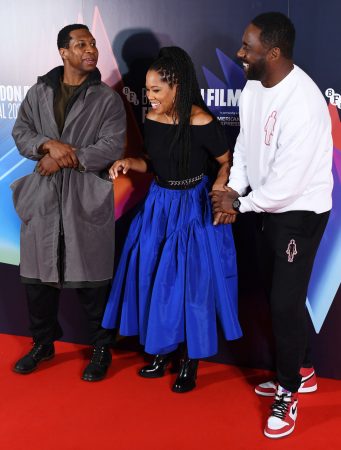 Jonathan Majors(left), Regina King and Idris Elba.
Photo credit: David Fisher/Shutterstock
Her main rival is Trudy Smith played by the charismatic Regina King. She is strong, slightly sadistic and does not let anything slide.
This is evident by a scene in which she shoots a white man in the head for starting to say the 'n' word. One of her comrades says "He could have said nincompoop," to which she sternly replies: "We ain't no nincompoops."
This almost felt like director Jeymes Samuel was making a subtle dig at Quentin Tarantino who has been criticised for having white people use the word in his films. Django Unchained is an example.
The plot is fairly straightforward but luckily does not allow itself to become plain. Each character is compelling and offers something unique.
It is clear that the Samuel took cues from classic western films such as The Good, The Bad and The Ugly, with the melodrama and the back-and-forth gunfights adding to the overall atmosphere.
Each shot in the film feels stylised and magnificent. It also must be noted that the film is one of the few Westerns where all of the primary cast are black.
Whilst this is a work of fiction, the characters portrayed were all real cowboys and outlaws are based on real figures of the old west.
Another stellar part of the film is the soundtrack. The film itself, as it was produced by Jay-Z, was almost assured that the music featured would be great. The soundtrack contains the likes of reggae superstar Koffee, CeeLo Green, Lauryn Hill and Jay-Z himself.
To conclude, The Harder They Fall is an excitingly action-packed adventure filled with enough energy and combat to excite both modern audiences and fans of the 1960s western genre. The twist at the end lacked development but all in all the cast is charismatic to keep viewers entertained regardless.