Are you a traveller? Were you waiting for the last Friday of the month to book your perfect trip at paltry prices? I am sorry to disappoint your expectations, but this Black Friday and Cyber Monday won't be as good as everyone wishes.
Travel deals appear to be either exaggerated or non-existent after Which? Travel investigated offers from major international flight companies, such as Ryanair, EasyJet, Norwegian and Tui.
Stefania Dall'Armi talked to the best bargain hunters at Kingston University and travel experts to find out what are useful tips to consider every time of the year when you are looking for good deals.
SKYSCANNER
So, let's start at the top. Who is the one which knows everything about travel deals, able to scan from above the clouds? No, it is not God. It is Skyscanner.
Trisha Singh, a travel blogger, says every good bargain hunter must have this website saved on the list of favourites.
"Skyscanner is the place to find real answers to open-ended queries such as 'where should I go to bring in the New Year?'" she adds. "About 15 minutes of crunching numbers on Skyscanner was all it took for me to lock the perfect destination."
GO 'EVERYWHERE'
Cancer Biology MA student Luis Del Rio Fernandez tells me sometimes the need to discover new places and new cultures is stronger than actually deciding what to discover.
"Sometimes, when I look for adventures on Skyscanner, I just put the dates in and leave 'everywhere' as a destination," he explains.
"This summer I really wanted to do the travel of a lifetime, so I did a quick search for flights to 'Everywhere' and realised that Costa Rica was a great option. The countries are sorted by price so it was quite easy to make that decision."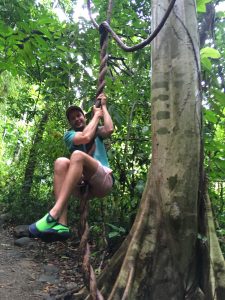 CHECK IT ON TUESDAY
Is there a better day of the week to book a flight?
Mady Mae Worden, a photography student, seems to know everything about travel deals.
"I don't why but the best time to look is on a Tuesday," she answers. "I have always booked all my flights on a Tuesday. And it's always the cheapest. The good time to look is or very early in the morning or between 4 and 6 pm. Always keep checking, never settle for an option."
According to FareCompare and MoneyUnder30, the best time to book your tickets is really on Tuesdays.
"Many airlines launch sales late Monday night, so new fares will be available and other carriers drop their rates to match the competition," MoneyUnder30 writer Kat Tretina explains.
"You can also set alerts for deals by setting up airline fare alerts with apps like FareCompare, you'll get a text or email notifications letting you know when prices drop or a sale is announced, allowing you to snag limited deals."
TAKE IT WITH TIME…
Mateo Rey, a business student, always likes planning his trips well in advance. "I think preparing the trip with time and comparing different websites are the best ways of achieving great deals."
…OR AT THE LAST MOMENT
However, the editor of Which? Travel, Rory Boland, tells The Daily Mail: "Nothing beats the feeling of saving hundreds on your next holiday, but that feeling can quickly turn to anger when you discover it would have been cheaper if you'd waited to book".
Their new investigation over Black Friday deals reveals that if you check the same holidays two weeks later, there are 30per cent of chances it will be cheaper.
MAKE FRIENDS ALONG THE WAY
Mady has friends and family worldwide, and she thinks it is great if you want to get more immersed in the lifestyle, but also if you want to save money on accommodation.
"This reading week I went to Australia with only £650," she says. "My friend and I stayed for three days in Melbourne and four in Sydney on the way back. The good thing is we didn't have to pay for the accommodation. I had friends in each city because I went to Australia in July for like a month and that's where I met them."
JUST GO FOR IT
Finally, you just have to be brave. If you find a cheap deal just go for it.
"Don't think OMG this flight is so cheap it's going to be awful," Mady says. "It doesn't depend on the airline. Everyone thinks that Ryanair is a very bad airline but I never had a problem with it."
Go for it also if it involves a two-day journey with layovers around the globe.
Luis Del Rio tells me that he had the chance to visit Boston thanks to an 11 hours layover flight from London to San Jose (Costa Rica): "I never thought to visit the USA as a possible travel destination, but it was good to go there for a day and feel the atmosphere for free."
Mady concludes saying that travel is always an adventure:
"I kind of enjoy getting on the plane before arriving at the destination. The journey is always fun and part of the trip. Sometimes getting ready and going to the airport is even better than being at the destination. It's always so much fun; there is always so much to do. Even if you are scared to fly just get on a short flight and do it. You'll miss the best part of it if you don't try."