Kingston students roasted local UKIP candidate Ben Roberts  at a talk yesterday, turning the candidate's lecture into a frank and extended grilling of the party's controversial policies.
Nearly 100 students, lecturers and KUSU staff turned up to press the young candidate on questions of immigration, selective tuition fee scraps and EU-politics.
When quizzed on immigration, Roberts said: "It's gone crazy," referring to the immense numbers of immigrants who are let into the UK annually, who he said are occupying too much space in housing, in employment and even on the tube.
He said: "We simply cannot cope with these numbers."
UKIP have repeatedly been dubbed a 'racist' party and immigration naturally became a huge topic, triggering strong emotions from the crowd.
Putting his hand over his heart, Roberts said: "I welcome immigrants," upon which a "oh, do you now?" was shouted out from the audience. One student also called Roberts a "stupid, but brave man" during the Q&A session.
UKIP announced this week that they will introduce a point system to determine who should be allowed to immigrate to the UK. When quizzed on his personal view of how that point system should work Roberts said people wanting to come to the UK must already have a job upon arrival, have a NHS-approved health insurance and skills that could benefit British society.
Philosophy student and Socialist Workers Party member Richard Donnelly, who later received the event's only warning, said: "In your promotional videos on the internet, UKIP are blaming immigrants for traffic jams." Donnelly received laughter and cheers from his peers as Roberts desperately tried to wiggle his way out.
The local candidate said in his speech that UKIP have been misrepresented in the media with "idiots in UKIP who make stupid comments" occupying the headlines, and urged the audience to look beyond that.
He stressed that these idiots were suspended from the party, like the UKIP councillor David Sylvester who Roberts called a "tit" and a "muppet".
Sylvester has said that last year's huge floods were a punishment sent from God as a result of the same-sex marriage act being enforced in Parliament.
Sylvester's specific quote in its entirety was projected on the big screen as people walked into Clattern Lecture Hall and was linked to LGBT Officer Amy Bush's t-shirt stunt of wearing a top saying "I make it rain #gayfloods".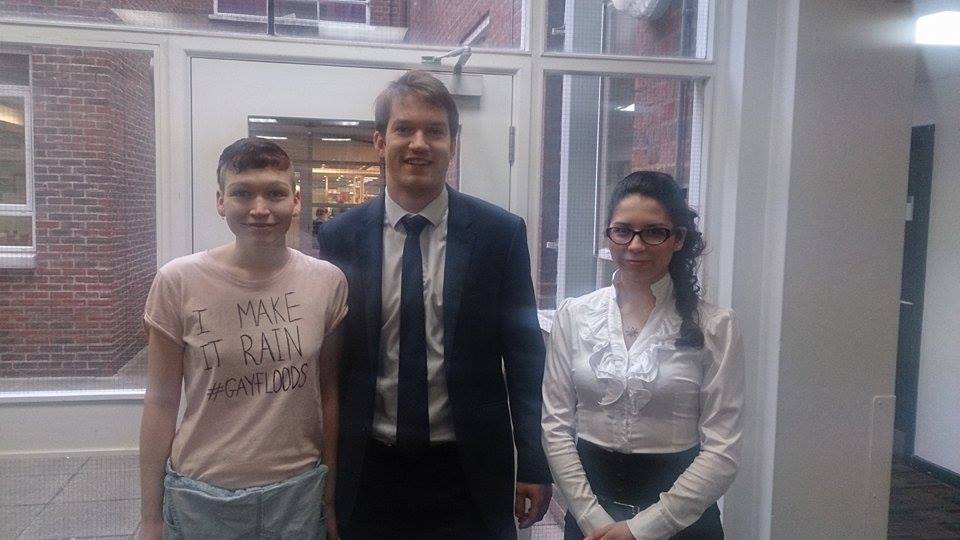 She said: "There were a set of slogans I could pick from to put on my t-shirt today, but I thought #gayfloods was probably the most appropriate and personal to me."
There did not seem to be a single supporter of UKIP in the room, at least not anyone who was willing to admit it to a crowd who appeared to be completely united in their opposition to the party.
Kingston's Socialist Worker Student Society made their stance on UKIP very clear prior to the event by plastering the corridors at Penrhyn Road with posters saying "UKIP GO HOME", "STOP THIS RACIST" and "No to UKIP – blame bosses not migrants".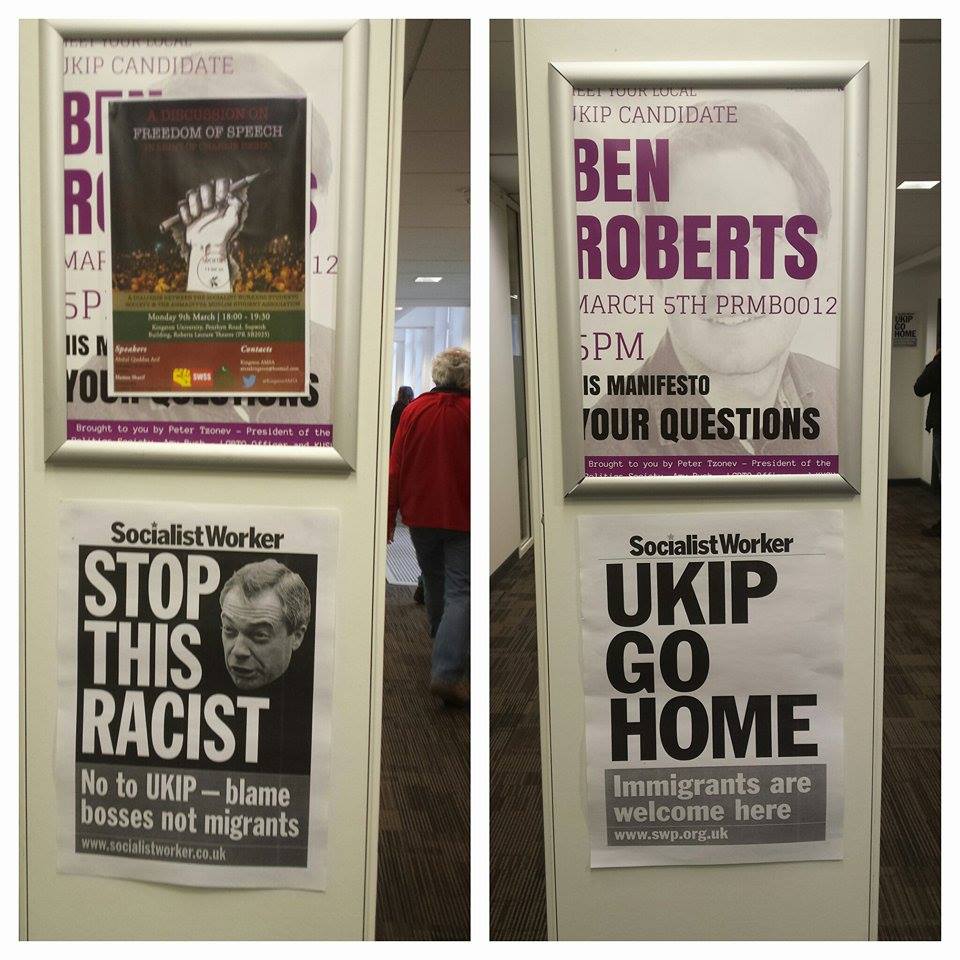 Roberts started his speech with ironically thanking SWSS for their clear signposting and warm welcome.
Bush, who organises the event alongside Kingston Politics Society, said: "It was an amazing turn-out, people were really engaged and enthusiastic.
"The candidate did attempt to respond to questions as well as he could and I imagine it can be incredibly intimidating to know that you're walking into session where everyone opposes you."
At times, Roberts seemed visibly uncomfortable and frustrated as the audience radiated constant opposition and hostility. At one point Roberts shushed a member of the audience.
After the event, he said: "During the question and answers, I felt the majority of students asked great questions and were respectful, but as is often the case a small number of people in the audience chose shouting in order to force their own view on the group.
"I thought it went really well given the clear hostility that was whipped up by the socialist worker party."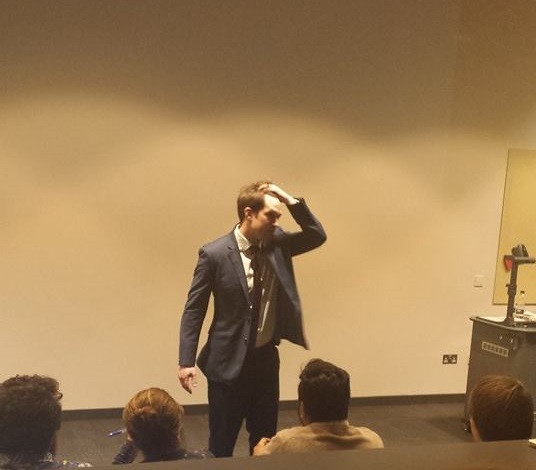 Bush co-chaired the question session with Faith Gaiger-Roscoe and they both had a tough time controlling the audience who were opinionated and keen to express their disapproval of UKIP's policies. With emotions running high, the audience shouted out accusations and questions.
Third year international relations and Spanish student, Krystle-Jade Millward, 23, said: "It wasn't necessarily the smartest idea coming to one of the most diverse campuses in the country."
Roberts explained UKIP's proposed policy of scrapping university tuition fees on the so called STEMM subjects (science, technology, engineering, maths and medicine), as he said they benefit society more.
He was then was challenged by students who said the policy gave the impression that subjects such as arts, journalism or politics are not important and valued.
A KU part-time lecturer asked Roberts some tough questions on UKIP's trade policies which Roberts clearly struggled to answer and justify. She was cheered and applauded by the audience.
She said: "I am so proud of our students. They found their voice, they were debating, they were debunking, they had quick responses and noticed all the contradictions and hypocrisy in UKIP's policies. It was an amazing show."
Current MP for Kingston and Surbiton, Ed Davey, is next in line in the "Meet your local candidate" series. You can come along and question him and the Liberal Democrats' policies at 6.30 on Thursday March 12 in Clattern Lecture Hall.