To bring awareness to students and staff, KUSU held its first ever Go Green Week with events focusing on the environment and sustainability.
Organised by the KUSU Environmental Working Group, this week has been filled with events like "Waste Not, Want Not" a talk hosted by the operations sustainability manager, Rhiannon Ford, about the university recycling.
Ford said: "Kingston University produces 75 tonnes of waste every month which is the equivalent to around 6.25 double decker busses."
The World Bank has estimated that in 2025, people will be producing over 2 billion tonnes of waste globally every year.
Ford added: "If you think about the time of your three years studying at Kingston, the number of buses worth of waste that would have been generated by the university is really quiet phenomenal."
Compared to other London universities such as King's College and the London School of Economists, which recycle around 90 per cent of their waste, Kingston only recycle 37 per cent. The reason, according to Ford, is that students and staff do not use the allotted bins properly.
Ford said: "This is a real challenge for us and we are much looking to increase our recycling rate.
"This is quite a shocking figure and a lot of the reason, when I talked to people is that they don't use the bins properly because they are rushing or don't understand how to use them."
A large amount of waste comes from the canteens and one of the suggestions Ford explained could help decrease the amount of waste is to use plastic plates instead of disposable boxes, when not having takeaway food.
The university currently has two types of bins, one for general waste and one for mixed recycling. The general waste one has a black bag and should be used for food scraps, plastic wrappers, polystyrene, used paper towels, cups and cans (but only if they still contain any liquid).
The mixed recycling bins have clear bag and is to be used for everything that can be recycled, but the items have to be clean and dry.
Ford warned: "If a small amount of liquid, like half a cup of coffee is thrown into the 3 tonnes of waste, none of that would be able to be recycled. So you can see that if people are just leaving the canteen throwing anything in the recycling bin, it is having a huge impact on our recycling."
Sofie Tellefsen Holm, 24, psychology student, specified the importance of making small conscience changes for the environment: "I think it is important to make people aware about the small and larger adjustments you can make in your everyday life, which would be better for you and the environment," she said.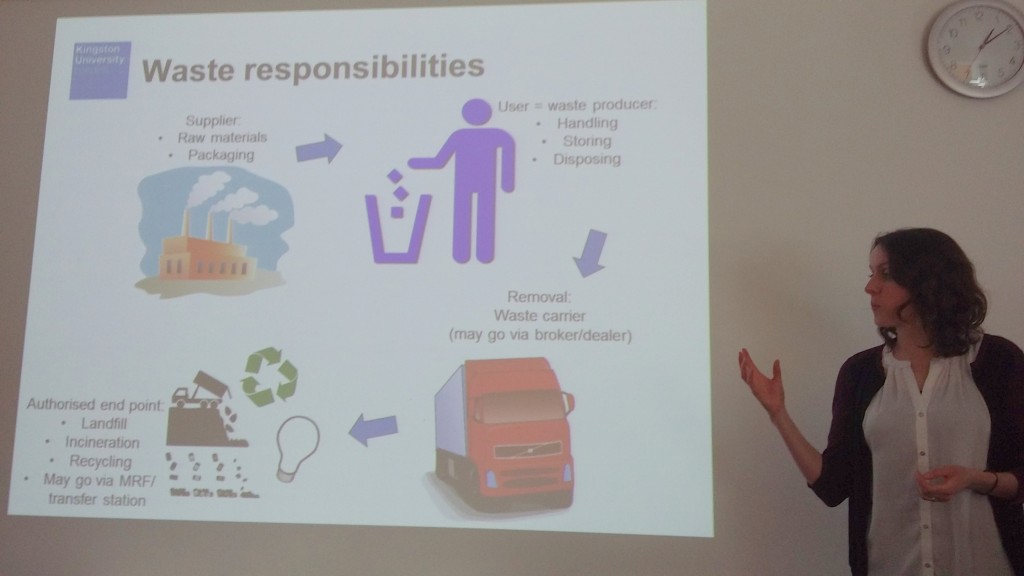 Kingston's mixed recycling goes to a Material Recovery Facility (MRF), where it is turned into new products or raw materials.
Ford said: "It is phenomenal to go to an MRF and see the amount of technology that is involved in picking up different types of waste, you got magnets collecting certain metals.
"It is really quiet humbling to think that what we are really putting in our bins don't just disappear.
"It goes to these places and people actually have to take that out and handle it and decide what is going to happen to it. If people had an awareness of that, it would make them think of what they are putting in the bins."
If you are not sure if something can be recycled, put it in the general waste because it is much better that one thing is not recycled rather than a whole 3 tonnes of recycling being spoilt."
The group also set up a Swap Shop at Penrhyn Road campus where students could leave their unused goods and even pick up something new.
"All the things you see have been left by students who had to move house, basically stuff that they don't need and that they just brought to swap," said organiser, Giulia Selvaggi, 20.
She encouraged students to bring their unused things to Tom Garrood, sustainable behaviour assistant, at Swan House. He collects the things and when possible he arranges a Swap Shop for students.
For next year, organiser Selvaggi said she wants to recruit more people to volunteer during the week, by having them for example explaining the bin system to other students.
"It is kind of hard to find a lot of students that want to get involved, it's the first year that we are doing this and most of the students don't really care, or are not motivated to do stuff," said Selvaggi.
Overall, the events over the week got good responses from students. The first event was a veggie market, where they sold vegetables and fruits, as well as food made by the vegan and vegetarian society.
Tellefsen Holm said: "That was really cool, we sold everything and people were positive and said 'oh you should do this every week, this so good'.
"I like this because it is informal, it is not pushy, it's not judgy, it's just here and then people can choose to take part if they want and learn more."
Alysia Hurrell, 18, said: "There is a lot that people don't know, and I personally feel that we can learn more things by casually informing them."
Selvaggi added: "I just hope people will learn more and respect the environment."
The Go Green Week will finish off with a 'Fuck CO2' party at SPACE Bar, with a 'flower power' theme.