Abigail Shrier's controversial book fuels the ongoing debate surrounding transgender youth. She argues her book is about "an epidemic" that is ruining young girl's lives.
A journalist for The Wall Street Journal, Abigail Shrier recently released her book titled Irreversible Damage: The Transgender Craze Seducing Our Daughters, in which she explores gender dysphoria.
Shrier refers to the physical transition of taking hormones and receiving  surgery as the "irreversible damage" of identifying as transgender.
She talks to parents, psychologists, doctors, therapists, educationalists, young women and trans men who came out as transgender as teenagers and have since transitioned or started to transition. She uses her arguements to frame transmasculine teenagers as the deluded victims of some baffling new fad.
In the book Shrier accuses social media of playing a driving role in girls' decisions to identify as transgender. She argues that a "craze" of transgender adolescents is spreading through schools and friendship groups, relying on the myth of "rapid onset gender dysphoria", a name given to a group of transgender adolescents coming out around the same time, to support the evidence she provides.
She advocates for withholding gender affirming medical care for transgender youth. In the UK Kiera Bell, recently won a case against Tavistock and Portman NHS which resulted in children under 16 no longer being prescribed hormone blockers without a court's consent.
Whilst I sympathise with Kiera Bell and others like her who have detransitioned, it is not up to those who've decided they're no longer transgender to prevent other transgender adolescents from receiving life-saving gender-affirming medical care.
Shrier points out that historically gender dysphoria has affected 0.1 per cent of the population and before 2012 there was no scientific literature on gender dysphoria affecting girls between the ages of 11 and 21.
Rather than exploring why dysphoria has only affected a small percentage of the population and why there's more scientific literature now, Shrier takes the evidence she finds at face value. In recent years there has been an increase in openly transgender individuals who can speak out about their dysphoria, not an increase in transgender individuals.
Shrier believes that she is not transphobic because her book is not "about transgender adults". In a condescending tone, Shrier says the ones that she met and interviewed are "kind, thoughtful and decent" and "do not seek to be celebrated for the life they have chosen."
This statement in itself is transphobic as it disregards any transphobia towards transgender adolescents and feeds into the belief that being transgender is a choice.
In reviewing the book, a journalist at The Sunday Times, Christina Patterson said: "Feeling inadequate as girls, they discover they are probably not girls!" She continued "An online army is waiting to cheer them into their new identity, and along the path to the hormones and surgery that will make them feel whole." 
It's almost as if people think it's a fast and easy process to transition. It took me four years to be prescribed testosterone. I was on the NHS waiting list for 13 months and my first appointment was to discuss why I knew I was transgender. It then took me a year and a half to get hormone treatment after that.
It disappoints me how much support Irreversible Damage has had. Instead of protecting the young girls Shrier writes about, she has paved the way for an agenda that aims to eliminate exploration into gender identity causing more dysphoria and confusion in transgender adolescents.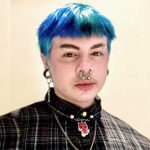 Transgender queer freelance journalist studying at Kingston University.
I am passionate about feature writing and fashion journalism.
Contact me directly for story ideas or if you have your own story to tell at tylaconnor98@gmail.com