Kingston University faces three years of potential turmoil after launching a controversial plan to transform its reputation and performance.
The scheme, called Plan 2020, will aim to improve the quality of teaching, streamline the courses that it offers and dramatically boost the university's reputation.
But a traumatic series of changes will see massive restructuring of departments, axing of poorly performing courses, cutting of all half fields and significant job losses.
It comes as the University faces a significant deficit in its income running into tens of millions of pounds as the number of students enrolling over the past eight years has slumped by 40 per cent.
The University has also sunk in key rankings, with over half of KU subjects struggling in the bottom 25 per cent of national league tables.
Acting vice chancellor Steven Spier said in an email to staff: "Our overall academic standing is now affecting even those parts of the university that perform well.
"These harsh realities mean that we have no choice but to act at pace to ensure the University's long-term sustainability.
"Beyond that, we need to become a far more agile and dynamic institution, able to hold our own in a highly competitive marketplace.
"During this period of transformation, we will remain committed to ensuring our current students are able to continue to complete their full degree programmes at the University and receive the very best teaching and learning."
Among the most dramatic plans are the closures of several departments including geology, human geography and applied economics – although some aspects of these modules will be absorbed into other courses in order to create new options.
Music, politics and economics courses also face major reconstruction that the senior management team believe will make Kingston appear more attractive to prospective students.
Engineering, computing and maths will face a major review in the summer with staff fearing major cuts may be on the cards. The future of the Roehampton Vale campus has also been discussed.
[tabs type="horizontal"][tabs_head][tab_title] Which of Kingston's courses are at risk?[/tab_title][/tabs_head][tab]These courses are in the bottom 25 per cent ratings in the Guardian league table; some have already been addressed by Plan 2020, those that have not yet are likely to undergo similar changes:
Architecture (ranked 41 out of 48)
Building and Town and Country Planning (38 out of 42)
Business, Management and Marketing (N/A)
Chemistry (50 out of 52)
Civil Engineering (47 out of 48)
Computer Science & Information Systems (84 out of 112)
Criminology (51 out of 52)
Drama and Dance (65 out of 85)
Earth and Marine Sciences, including Geology (36 out 36
Economics (63 out of 70)
Law (N/A)
Mathematics (56 out of 65)
Mechanical Engineering (60 out of 63)
Music (72 out of 80)
Politics (78 out 78)
Psychology (107 out of 112)
Sociology (85 out of 87) [/tab][/tabs]
The University is also set to cut back on staff numbers, with restructured departments facing significant losses and voluntary severance or voluntary early pension deals being offered to a large number of permanent staff.
However, compulsory redundancies have also been discussed if not enough staff leave voluntarily.
The proposed plan, which is now open to consultation, shows that the music department will lose six full-time staff posts, economics will lose 6.7 and politics will lose four. A source revealed to The River that they expect at least 100 staff to go before the start of the next academic year.
One senior source told The River: "Every single department in the university is over staffed and no department is safe from change. But the simple truth is that something has to be done – the drop in income is so serious."
Some of the lecturers hoping to remain will "compete" for limited positions within Plan 2020's ring-fence policy.
But the university stated it "reserves the right to recruit externally, either from across the wider university or from outside the organisation".
Although lecturers have been offered positive alternatives, Andy Higginbottom, chair of Kingston's University and College Union (UCU), said: "The union will not accept compulsory redundancies and we will fight any attempts to fire staff. If you're worried all the time that if you admit any kind of mistake you risk losing your job, you are not going to admit it. We do not want that sort of environment."
The University's figures reveal that full-time students have declined over the last few years. There were 25,430 students including postgraduates enrolled in 2010/2011.
This academic year it is thought that number has dropped to around 17,000 while the university predicts it will fall to 15,000 next year.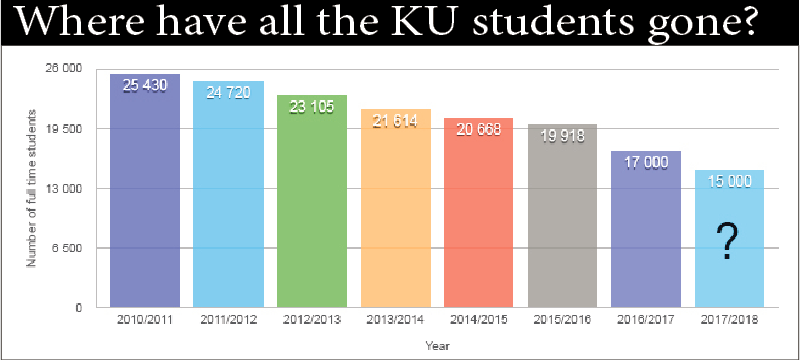 As The River revealed last month, 71 half-field courses will be cut from KU in the next academic year due to lack of recruitment. Recruitment to all half-field courses will be stopped in 2018, although some half-fields will become proper combined degrees.
Music is facing a complete overhaul. Previously, prospective students could choose from a degree in music or creative music technologies. Now, new students will now have the option of music technology or popular music.
Higginbottom said: "The expertise of staff is being ignored; music recommendations were based on one external anonymous consultant's report.
"Plan 2020 does not look at our real strengths, but tries to read the market and implies lecturers are not able to teach music. The music department argues we should continue to teach a music degree."
Economics is also facing change, with applied economics closing completely due to "low levels of student progression and achievement, and declining student numbers," according to Plan 2020 documents.
Politics is currently sitting at the very bottom of the league table, so it is of no great surprise that its viability is being questioned.
The courses will be condensed from politics, international relations and human rights into two new courses – human rights and social justice and global politics.
"The politics department did have a say in creating human rights and social justice, which we think will be an attractive degree," said Higginbottom, who also lectures in politics.
"Senior management however did not consult all departments about strategic direction and the Union will be suggesting alternatives. We are encouraging all departments to assess the proposals by senior management."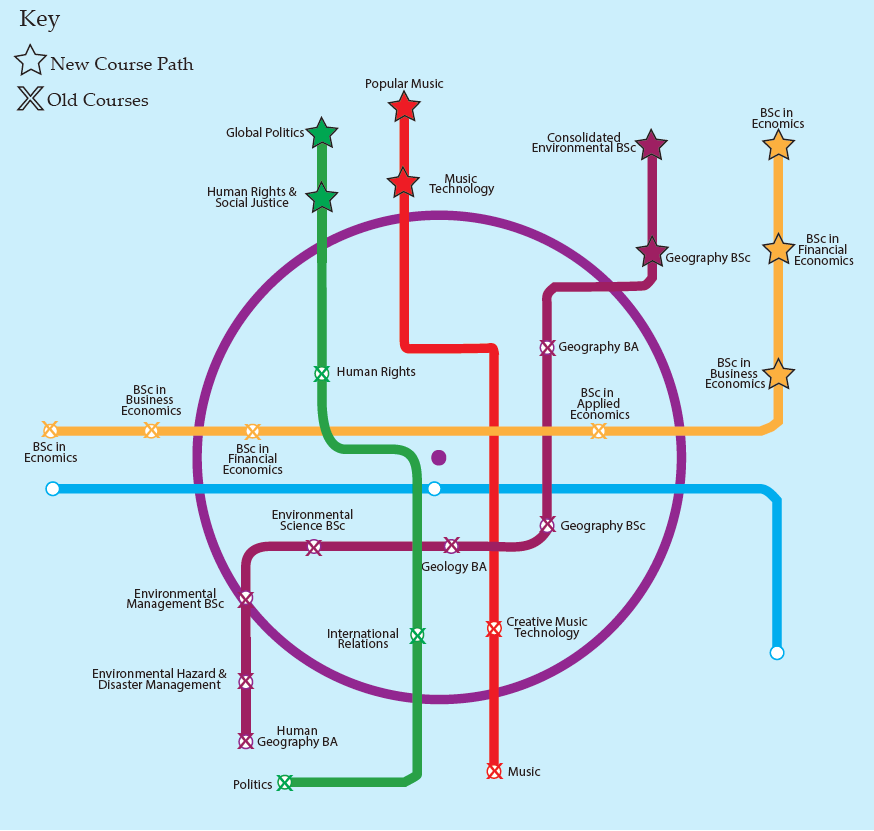 According to the acting vice chancellor, Kingston's poor reputation is also impacting the "calibre" of students enrolling.
It was implied in the plan that some students did not have the necessary academic skills to reach their full potential in their degree.
Plan 2020 received mixed reactions from staff. Kingston University London Dissenter's Blog, an anonymous website that is critical of management said all the university's problem solving proposals boiled down to the same thing: "Cut back and get rid of staff. Engineering and computing are in the firing line, as is music, politics and geography."
"We can expect more from Spier about becoming an 'agile and dynamic institution'.
"To translate this favourite business phrase, it means cutting out parts of a company that don't generate profits in current markets and adding them back in when things change.
"But you can't do this with university departments. Once gone it takes a lot of time and effort to rebuild from scratch."
Professor Vesna Brujic-Okretic, head of computing and information systems, said she felt 2020 was "necessary" and that the whole university should embrace it. She said the plan was in line with what her department was intending.
Professor Brujic-Okretic said that in order to be a successful lecturer, staff needed to embrace change and keep up with modern technology.
She said: "Nowhere in this environment or sector can you survive or thrive without that attitude.
"Not long ago Kingston featured as one of the universities with the most diverse portfolio of courses. That's a good thing as on one hand as you're catering to a lot of diversity, but it is not so much sustainable."
[tabs type="horizontal"][tabs_head][tab_title]What is Plan 2020?[/tab_title][/tabs_head][tab]
Phase 1
This phase is already underway and action is being taken where KU thinks it is most 'urgent', however courses to be cut will be 'taught out' so current students will not be affected.
Some courses will be restructured within: FASS: Music, Politics, Economics and SEC: Geology, Geography and Environmental subjects.
Phase 2
A 45-day consultation will begin in late February.
It is proposed that Film courses will move from FASS to FADA and Law courses from the Faculty of Business and Law to FASS.
Phase 3
In late summer 2017, Kingston will review SEC subjects: Computing, Mathematics and Engineering. [/tab][/tabs]
A Kingston University spokeswoman said: "All courses will be continuing as usual during this period and the University remains committed to making sure its students get the very most out of their time on campus.
"It will also be taking in new students for the same courses next year. They will complete their full degree programmes at Kingston University.
"The University welcomes comments from the student community as part of the Plan 2020 consultation process. These can be fed back through course representatives or Union of Kingston Students' officers."
Phase one of 2020 is already underway and causing uncertainty amongst staff and students, phase two is a 45 day consultation period which will begin in late February, phase three is anticipated to start in late summer 2017.
Kingston's University and College Union will be co-organising an event with Kingston's Student Union on February 22 about Plan 2020, all are invited to attend and information regarding this event will be released shortly.