Days worth of trekking, dangerous boat rides, crossing borders and sleeping on the streets – they have been through it all. Sayid talks to Deborah Lewis of the perilous journey he faced with his family and how it felt to restart their lives in Kingston.
It was a four-hour drive across the border into Turkey, then a 15-mile trek along the coast to Izmir. After that, Sayid and his family prepared to travel by boat to Greece, and they did not look back.
Their journey was treacherous: an overcrowded boat rocking along the furious waves carrying petrified parents, wailing children and countless terrified passengers. From Greece, Sayid, his five children, and his wife, Amira, moved north through Macedonia by train and travelled across Serbia into Hungary. Poor weather conditions made the voyage unbearable, but the family were determined to reach their destination.
The route was long and difficult: living in refugee camps along the way and sharing cramped accommodation with other families, sleeping in airport lounges and quiet streets, but eventually they pulled through.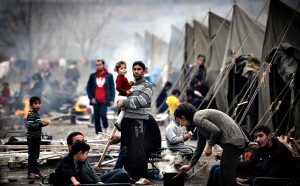 Having left Damascus, Syria, over a year ago due to the raging civil war, 44-year-old Sayid is beginning to adjust to his new environment after arriving 4 months ago. "Everything is completely different here, but it is safer, which is all I wanted," he said.
When he first arrived, his claim of asylum was rejected as he didn't have enough evidence, but Sayid did not give up. He said: "I didn't want to be homeless, so I went looking for help."
The father of five found Refugee Action Kingston days later. Advice worker Dominique Revell was able to help with fresh evidence for his case, and he was soon able to find temporary housing in Kingston. As of now, he is still claiming asylum, waiting for a reasonable offer.
Although life may be looking up for Sayid, he still remembers the conflicts of war in Mezzeh: dead bodies littering the streets, explosions that rattled his home and his daughters' school collapsing when ISIS attacked nearby.
Sayid said: "She is only 16, and she was terrified when it happened. She was in class when a bomb went off and the school collapsed. Luckily she made it out alive, but a lot of children were injured — some of them died.
"She went insane after, and it took a while for her to calm down. That was the last straw for me. There was no safe place anymore. I didn't care about how hard it would be to leave; I just wanted to escape with my family."
Having previously worked as a qualified paediatrician in Syria, and helping children injured in the war, Sayid hopes to pursue a medical career, but must start from scratch to provide for his family. He is now looking for work with the help of his advisors. "I really miss my job," he said. "I've always had a set career path, but now I must start over again. I would love to go back into that field of work."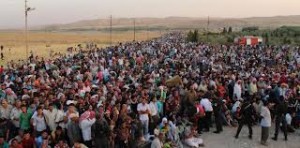 Refugee Action Kingston (RAK) was set up in 1991 by a group of voluntary sector workers who aimed to support refugees in Kingston that required specialist help. They now have over 80 volunteers providing a variety of services to meet the needs of refugees and asylum seekers.
Sayid said: "They have helped me every step of the way. I didn't know about my rights as a refugee, but they have shown me.
"They have helped me to send emails, do my driving lessons, and they're even working towards providing me with better accommodation, so I'm very grateful."
As of February 2015, Turkey has become the world's biggest refugee-hosting country with over two million Syrian refugees. David Cameron's pledge to allow 20,000 refugees into the UK over the next four years has raised some questions, but Sayid does not believe that it will solve the issue.
"He could invite 100,000 into the country, but people in Syria are still suffering," he said. "It is a nice gesture, but we should focus on what is happening over there, and what we can do to stop it."
Head director of RAK, Sanja Kane, said: "We're doing our best to help refugees as much as we can. They are already in the borough. What we need now is for the infrastructure to support them properly. David Cameron's plan to let more in is a good start, but we need more of a national strategy."
Sayid is thankful to have his immediate family with him. He knows of refugees who left Syria together but did not make it through successfully. He said: "The conditions are better here, but the toughest thing is finding the right place to live. Right now, there are seven of us in a two-bedroom flat. Back in Syria we had a bigger space, but it's like starting all over again."
He explained that despite this, his five children: Ahmed, 19, Zeinah, 16, Amena, 11, Haya, 9, and Mohamed, 4, are adapting well. Refugee Action Kingston advice worker, Fiona Boult, secured school places for all of them. Sayid's daughter, Zeinah, is now studying Psychology in Kingston College, while her brother, Ahmed, is looking to pursue a career in IT.
Although bad memories remain for Sayid and his family, they can now live in peace with better opportunities that are slowly but surely normalising their life.
Sayid said: "I'm glad there is hope of a future for my family; I want them to lead a better life. If situations change in Syria, I wish to go back there to see the rest of my family, but until then, I will rebuild my life right here in Kingston."