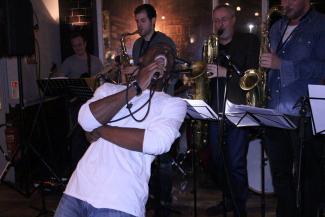 Bright lights, an eager audience and all eyes on him – that's what TJ is used to. Instead I find him almost hidden in the top floor corner of the busy Caffé Nero where his fingers are nervously flicking through piles of paper that have completely taken over the table, his eyes unblinkingly staring at the pages. He is putting the final touches to his dissertation – the highlight of his five years at Kingston University.
Although his BA in Music and MA in Music performance (both from Kingston Uni) might suggest otherwise, TJ is naturally a dancer, not a singer. After injuring his spine in a devastating car accident – which consequently shattered his dream of opening his own dance school – the multi-talented graduate had to discover a new passion.
"There are few things harder that I had to do in my life than to let go of that. It took a lot of re-conditioning to remind myself there were other things I could do."
Although music wasn't something he always wanted to do, it was what saved him in those unfortunate years.
"When your identity is in something, it definitely helps to lift you up and to move forward."
TJ threw himself into this new venture wholeheartedly. In spite of his potential, however, singing was something he had to work hard on with all the dedication and determination he had.
"Singing – that I had to learn. So I taught myself and it took me literally years of practice. When I started singing, I was surrounded by people who could sing the skies down. I was like a little kid surrounded by adults. I was like 'How do I become an adult like you?'"
Fortunately, the hard work paid off. TJ says it's all down to Kingston which he describes as a great place for a rising musician.
"There are a lot of musicians who help you to nurture. I think what is more important is that these people help each other. Students here set up events in and around Kingston for other students. That is amazing! It boosts your confidence and pushes you to perform and be the best that you can."
However, music isn't the only field that Kingston is a good place for. As a president of the Student Union a few years ago, TJ had to put his music career on hold and pay attention to everyone – from the engineering to the politics to the financial students.
"I want to say that was unfortunate but it wasn't. I learned a lot about performance while being a politician. It's the same thing, literally."
He says the two have more in common than one would expect.
"You get up and talk to a lot of people. You find out what people want, you give it to them. Performing is the exact same thing. I am standing on a stage, I am singing, I am looking at the audience, I see who is engaged and who is not."
With his funky dance moves, compelling voice and contagious smile, he surely has everyone engaged. After seeing him performing at No88 Bar & Grill, everyone in The River is very excited to follow what happens with his career. Watch this space!
Meanwhile, make sure to check out his songs and poetry:
www.facebook.com/MusicTJ
www.twitter.com/MusicTJ
www.musicTJ.wordpress.com