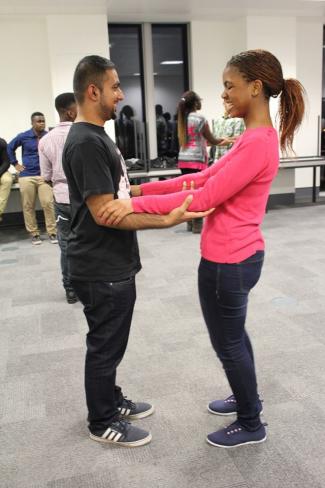 "You're here to have fun, you smile, you enjoy yourself". This is how the teachers from Studio Afro Latino started their dance lesson on Thursday October 3 at Penrhyn Road.
This was the newly established society's first meeting, and the lesson proved to be a great success. Around 30 students attended, and it was evident by everyone's roaring laughter that they were enjoying it.
Kizomba is a beautiful combination of various dances originating in Angola. Some say it is a bit similar to the Cuban dance, salsa, but with a slower pace and more sensuality.
Great success
Anna Kente, dance teacher from Studio Afro Latino said: "Kizomba is a connection dance: you have to have a mutual understanding with your partner in order to feel that connection."
The 'Luso' Portuguese society and the dance lessons are open to everyone, which is why students learn the steps in Portuguese, and then they understand the meaning of the steps in English.
Most of the students present were from different countries and were there to learn more about the culture and the dance itself.
Suhani Soni, 18, said: "I'm not Portuguese; my parents are from India and i'm Austrian but I really wanted to join the Portuguese society. I dance Bollywood style and I just love dancing in general so learning Kizomba was so much fun."
Mariana Rodrigues, 18, was one of the few Portuguese students at the lesson. "I thought it was just going to be a meet and greet today. I didn't know there was going to be a dance lesson – but I was so pleasantly surprised!"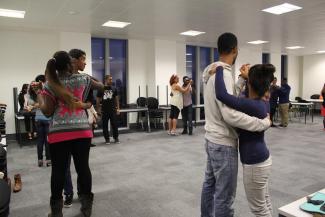 The ladies were not the only ones enjoying the dance; the men were all eyes on the teachers, trying to follow the rhythm of the moves while leading their partners.
Kadem Nasr, 18, said: "People here are all having fun which is really exciting. I think I'm coming back next week."
Pleasantly surprised
President of the society, Rui Daniel Jaime, was really happy about the success of the dance lesson. "I'm waiting for all the members to get better at dancing Kizomba so that we can all go to a club together and show off our talent."
Classes are free for the first three weeks, and if the members want to continue then Studio Afro Latino will charge £5 for society members and £8 for non-members. The society is also offering free Portuguese lessons for all society members.