The hypnotic blend of intricately weaved layers on
London Grammar's
debut album
If You Wait
lures you in after only the first song, perfectly paving the way for the rest of the album..
Lead singer Hannah Reid's haunting vocals, reminiscent of Florence Welch (Florence & The Machine), are integral to the success of the group, which saw their record reach number two in the UK Top 40 Chart.
The group, comprised of Reid, Dot Major and Dan Rothman, met while at Nottingham University and recorded their first track less than 12 months ago. Despite their young age, the band have carved a distinctive sound: melancholic piano lines intertwine with ambient cymbals and mellow guitar riffs, creating an atmospheric background for Reid's ethereal vocals.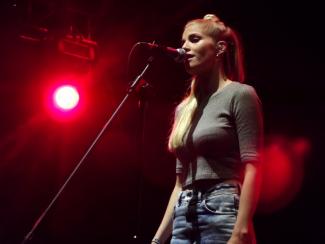 There is a genuine sense of sorrow and heartache that laces her lyrics as she recounts tales of broken hearts and crushed dreams.
The intimacy and shyness in her voice exposes a beautiful fragility in Sights as well as lead single and album highlight Wasting My Young Years. There's also a strong sense of self-deprecation throughout the album's lyrics, ranging from "I don't know who you are/don't leave me hanging on" on Wasting My Young Years to "and can you give me everything/everything, everything/because I can't give you anything," on title track If You Wait.
Another highlight on the record is the enchanting cover of Kavinsky's Nightcall. The sombre melody of gloomy piano keys and the subtle percussion set a chilling background for the brooding harmonies that enrapture you in a trance.
Despite her heartbreak, there is an underlying glimmer of hope in her songs that strengthens towards the end of the album, particularly on Flickers. The atmosphere lightens and the tempo increases as her voice twists through delicate cymbals, snares and drums that have a danceable quality, testament to Major and Rothman's instrumental prowess.
If You Wait is a deeply emotive debut that many will obsess over. The combinations of dazzling vocals and instrumentals have resulted in an innovative sound that demonstrates exceptional talent and impressive instincts. Simply mesmerising.