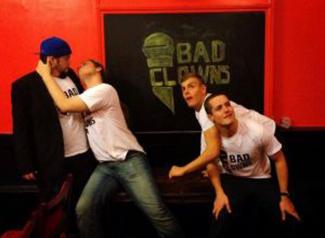 Bad Clowns are a comedy group formed earlier this year by four Kingston drama students.
John Bond, 19, Sam Walls, 20, Dan Maccan, 23, and Christian Dart, 18, became friends at the University whilst members of another comedy group called Diane Marie.
When that ended in December last year John says they were not ready to stop: "We still wanted to do comedy so we created our own group and the Bad Clowns was born."
The name apparently came about during a romantic moment between John and an un-named companion: "I was with a girl and I was romancing her and I meant to say bad girl but it came out as bad clown. I told people the story and everyone found it hilarious so we thought Bad Clowns would be the comedy name."
They describe their act as being a mixture of improvisation and observational stand-up comedy. Audience participation is an integral part of the show which Christian feels is important because: "Sometimes the best material comes out in improv because it's pure spur of the moment thinking." Dan agrees: "You get a chance to really work off the audience with improv which is good."
They have a pretty mixed bag of comedy influences such as Tim Minchin, Eddie Izzard, Billy Connolly and David Mitchell but this variety is a good thing according to Dan: "Our stand-up and our humour is very different from each others but it all kind of works as a whole."
A lot of comedians have found fame at the Edinburgh Fringe Festival such as Lee Evans, Frank Skinner and The League of Gentlemen. John performed as an actor at the festival in 2011 in a play called Standing Count and is keen to go back with Bad Clowns this time: "It's a place that I love. I have been there four times so I would love to save up some money and get us up there."
The group had their debut performance on Wednesday October 2 at The Cricketers in Kingston. It was a very assured and confidant performance which was, most importantly, very, very funny.
Sam says that was only the beginning: "We have some pretty interesting ideas lined up for our future shows. We have one planned for December fifth which is the Christmas one in Knights Park bar. We are going to fully improvise A Christmas Carol with suggestions being chucked in from the audience and that will be the show."
These guys are well worth checking out. They may each have a different style of delivery but the results are the same. The improvisation is sharp and hilarious and can very often veer into the near the knuckle variety of comedy.
If you wish to find out more about Bad Clowns and when they are performing next then check out their website badclownscomedy.com.