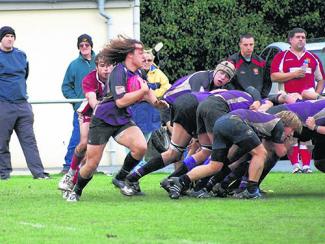 A KU rugby star still considers himself "quite lucky" despite picking up another injury in the first minute of his first game this season.
After having previously suffered three dislocated collarbones, a heart condition, glandular fever and a broken coccyx, Jake Robey, 21, tore knee ligaments while playing his first match for semi-professional team Staines.
He said: "The ball wasn't even near me – a player fell on me. I wasn't screaming, I was just in shock."
Unlucky streak
The talented number eight, who is a third-year human biology student at Kingston, has had trials with the England Under-16s. He was also part of MTV Made, a reality TV series that helps young people achieve their dreams, in an effort to get his promising rugby career back on track.
"I've had loads of great opportunities and MTV Made was life-changing," he said. "In some ways I'm super lucky, in other ways I'm super unlucky. The only thing holding me back is my body."
While at Exeter College, Robey was part of the Advanced Apprenticeship for Sport Excellence (AASE) scheme, training 24 hours every week. He played against the likes of London Wasps and London Irish.
Determined
However, just before going to university he contracted pericarditis, an inflammation of the sac around the heart.
That came after dislocating his collarbone three times in three weeks while on skiing trips earlier in his career.
"I heard a snap, crackle, pop," he said. "I knew it wasn't good. As for pericarditis, it can be fatal. I know someone who died from it."
Despite the injuries, he is determined not to give up on his dream of playing rugby professionally.
"I've played water polo, basketball and athletics to a high level, but rugby is my passion. I see some of my friends playing for massive sides so I'm not giving up that easily."