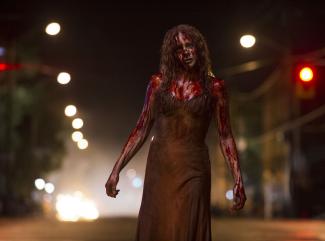 If there is one thing Hollywood seems to adore, it is bad horror film remakes, and Carrie certainly falls into this category.
In recent years, most horror films seem to follow the same recipe. Simple scares, focus on cinematography rather than screenwriting, and an overload of CGI are the staple elements, Carrie is no exception.
Director Kimberly Peirce's overly-ambitious take on Brian De Palma's classic from 1976 has ended up as just another failed Stephen King-adaptation.
The film follows Carrie, an insecure teenager who gets bullied by her peers, and her religious mother whose obsession about sinning leads to an abusive relationship between the two.
After one of her classmates realises that what she has been doing to Carrie is wrong, she persuades her popular boyfriend to take Carrie to the prom.
What Carrie does not know is the horrible prank one of her classmates has planned for her, a plan that will turn her gift of telekinesis into a deadly weapon.
Disappointing
Chloë Grace Moretz's attempt at playing a teenager whose critical mother (Julianne Moore) has left her broken and misunderstood is a good attempt – but she is just too pretty to be scary.
Moore on the other hand does a better job as Carrie's mother than Piper Laurie did in the original, shying away from the "religious nut" cliché, and instead plays the role of an unstable, psychotic mother.
Her religious rants about Carrie's sins are horrifying by themselves, and a definite highlight in the film.
The opening sequence, where we see her give birth to Carrie and decide whether or not to kill her is powerful, and sets a tone that unfortunately is not followed through the rest of the film.
The director's decision to make most scenes in Carrie eerily similar to the original makes it hard not to compare the two, something that only makes the remake seem even worse.
The original was memorable because of Sissy Spacek, and the way her character evolved from the innocent victim of the school to a bloodthirsty villain.
Mildly entertaining
While the original focuses on deep, complex characters and the major difference between Carrie and her peers, this film fails to show why Carrie is being bullied and why they consider her an outcast.
Bad dialogue, predictable scares and timely thunderstorms makes it blend into the rest of mediocre horror films that we have seen over the past decade.
Peirce and her screenwriters' approach to the original make you sympathise too much with the bullies towards the end, and the amount of CGI ruins the entire climax of the film.
When blood-drenched Carrie snaps and starts her revenge rampage, I forgot it was actually meant to be a horror film, and not an X-Men tribute.
Peirce's take on a cult-classic that most agree did not need improvement, and tried to do so with a touch of cyber-bullying to make it timely.
Mildly entertaining for those who have not seen the original perhaps, but even without comparing the two, Carrie remains a weak attempt at a horror film.
Carrie is in cinemas now.