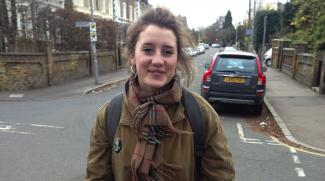 As we near the end of the semester, it's great to see so many students still making an effort despite deadlines nearing and the colder weather has crept upon us once again.
Studded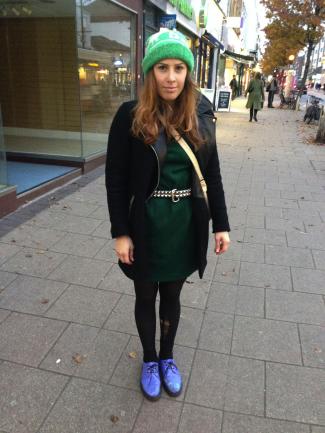 Name: Maria Evrenos
Age: 23
Third-year journalism student
Coat: Zara
Hat: TK Maxx
Dress: Vintage
Belt: Camden (borrowed from her dad)
Shoes: Dr Marten
Instead of sticking to the traditional dark coloured beanie this winter, Maria has gone for a brighter option. Maria shows us that a practical and essential beanie hat this winter can infact be made cute and trendy.
She has added a studded belt to add an edge to her outfit and proves that your parents may in fact own something fashionable and cool you could add your to wardobe.
Fashion tip: Scuffed your shoes? Try mending them with nail polish like Maria!
Wrapping up this December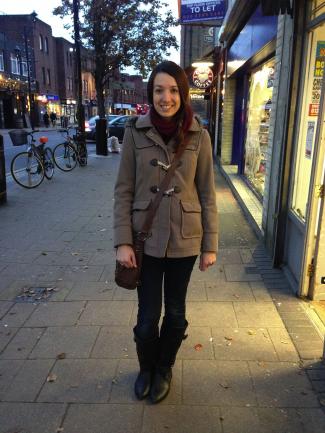 Name: Natalie Marsh
Age: 21
Third-year media student
Coat: New Look
Jeans: Matalan
Boots: New Look
Black boots are a must have item, summer or winter, and can be easily paired with any outfit. Natalie's high boots are perfect this winter as she is prepared for the four seasons London likes to hit us with daily. They are also boots which will never go out of fashion and can be worn year after year, and season after season.
Fashion tip: Style knee high boots with a dress and black tights if you want to go for the Taylor Swift look.
Burberry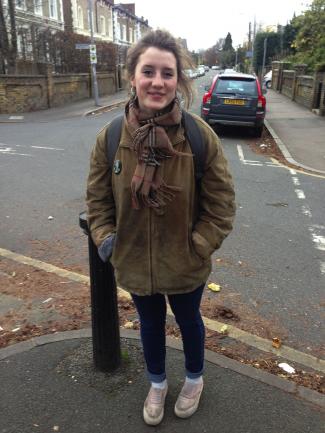 Name: Ella
Age: 18
Art foundation student
Coat: Vintage
Jeans: H&M
Shoes: Topshop
Scarves come in a variety of shapes, sizes and colours. There is sure to be one to suit your needs but they are not just for keeping warm. They are an essential accessory and are there to add that little extra something to your outfit.
Plaid and tartan are a popular trend this season and Ella is sporting this trend with her scarf. Even Amanda Seyyfried was spotted wearing a something similar recently.
Trendy in Trackies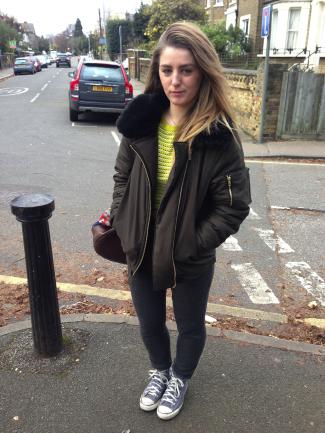 Name: Martha
Age: 18
Art foundation student
Jacket: Topshop
Top: Topshop
Trackies: Jack Wills
Shoes: Converse
Many people believe that wearing trackies is picking comfort over style, like Kourtney Kardashian has here, but this isn't always the case.
Tracksuit bottoms can be fashionable! This year we saw the rise of the popular smart trackies, which were available in almost every high street store. Designers have given them a radical change. Sportswear has become extremely fashionable over the past two years with the invention of the wedged trainer and popularity of the varsity jacket.
Fashion tip: Believe it or not, you can wear smart trackies out with heels and a blazer. Who said fashion can't be comfortable?