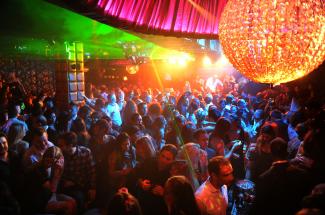 Essence nightclub's licence has been suspended until the new year after a mass brawl last weekend.
Kingston council and police made the decision during a meeting this week after hearing that the brawl, which involved up to 30 people, was like the 2011 London Riots.
A spokesman for Kingston police, Steve Young, said: "On Tuesday 10 December, a hearing took place at the town hall by the royal borough of Kingston Council licensing committee.
"It was decided to suspend the license of Essence nightclub for 28 days pending a full hearing on Monday 6 January 2014."
Borough commander, Glen Tunstall, said he was pleased with the decision.
"I am pleased that Kingston borough's licensing sub committee recognised the gravity of the disorder that my officers faced at Essence nightclub on the night in question and decided to revoke their license pending a full hearing."
Fighting armed
After arriving to the reports of a fight, police said they saw people "fighting armed with scaffolding poles." However, upon seeing police, several suspects escaped.
The spokesman said: "One man was taken to hospital in an ambulance, another with injuries. Some time later, five more men went to hospital with injuries. None were seriously injured."
Unconscious
KU photography student Gabriella Martinez, who was leaving Essence at the time of the incident, said: "There was a massive group holding tools and stuff from the bottom floor where they were constructing something. Loads of people got hit and one girl was unconscious with a bra and jacket on."
Five people were arrested in connection with the incident. A 23-year-old man was arrested on suspicion of affray and grievous bodily harm.
A 27-year-old man and a 28-year-old man were also arrested on suspicion of affray and another 27-year-old man was arrested on suspicion of affray and possession of class A drugs.
A 33-year-old woman arrested on suspicion of assault on a police officer and drunk disorderly behaviour. All have been bailed until next month.
"It is my intention to ensure that Kingston Borough remains as London's safest Borough and as part of that we will robustly utilise all the powers available to us to ensure that we build on our current outstanding crime reduction performance," said the police spokesman.