Two former KU students made a short film which was be premiered at BFI Southbank yesterday.
Ieuan Lewis and George Warren, were chosen out of 300 other applicants for the second nation-wide collaboration with the BFI and BBC Four and received funding to create their film.
"We really want to make the most of the opportunity. To have our film selected as one of a small number was a real achievement," said Lewis and Warren.
Their six minute film was about an Inuit and his dog who struggle to survive after an oil-tanker spills off the coast of Alaska. The sets and models for the animation were handmade by the former students.
Uki, the film, was split between an environmental problem and animal instincts and the extremes man might go to when driven out of his mind by hunger and loneliness, they said.
"The film started as a self-initiated project in our final year at university. We had the idea of a short film about an Inuit and his dog and started working on the story," the two former KU students said.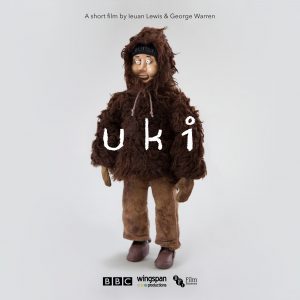 Lewis interned with The Brothers McLeod, BAFTA winning film-makers and animation studio. Greg McLeod told Lewis that the BBC and the BFI had asked for submissions for short films.
"It was really great timing as we had the script and treatment for the film ready as we had been working on this at university," said Lewis and Warren.
The former students were commissioned by Animation 2018, a talent programme set up by the British Film Institute and BBC Four.
It is part of the BFI's year-long focus on celebrating talent in animation. Last year the scheme created many promising career opportunities in broadcast and film for those who took part.
Gillian Scothern, Broadcast Producer, BFI, told the BBC Media Centre: "We were blown away by the quality and quantity of submissions we received for Animation 2018, and the wealth of talent across the country using animation to create boundary-pushing work. The 13 films we've selected use traditional techniques alongside cutting-edge technologies to tell a diverse range of stories in new and exciting ways."
The former students said they had always tried to find the most appropriate forms of communication rather than being limited to traditional forms of practice. It was this mentality, they said, that got them excited about the prospect of producing a stop-motion short film.
The two co-directors came across numerous challenges whilst making their short film. "There has been a steep learning curve from producing a film for university and producing a film that has been commissioned by the BFI and BBC. We have had to be really disciplined to work long hours each day to ensure that we delivered the film within the defined timescale and budget," they said.
Follow the progress of the film on Instagram @ukithefilm and follow George and Ieuan's work at @george_warrennnn and @ieuanlewisdesign