Will Brooker, Kingston University's David Bowie, discusses his research following the death of Bowie. His research encompasses a year long project of 'becoming Bowie' by dressing like him, eating like him, going to the places he lived and visited; a full immersion of body and mind. All of this research will conclude with an academic novel about Bowie.
He said his book-in-progress, Forever Stardust: David Bowie across the Universe, right from the start seemed to encompass the idea of Bowie's death and afterlife before he even started doing the research.
Brooker said: "I was prompted to write it by the awareness that Bowie would not be around for very much longer, so perhaps the concept was always there underlying my research. It was Lou Reed's death in 2013 that made me realise I should celebrate Bowie while he was alive. Part of me must always have expected this to happen."
He had initially hoped that the book would be published in Bowie's 70th birthday year as a celebration. Unfortunately, now it will become a memorial but does not radically change the book.
"Last month I decided to end the immersive research with a return to Bowie's early 1970s, to return to youth rather than simply conclude it with age, so again, it still works, almost as if I was half-aware this might happen," he said.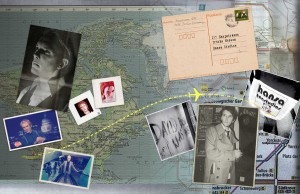 Brooker's website went live last month and was initially intended to represent and connect with Bowie's use of the internet in the 1990s, to engage with his fans. "During December (the '90s' for me) I was active on Twitter, talking to people in character, and responding to emails as 90s Bowie, on that account.
"I replied to a couple of emails from grieving fans this week, as Bowie-from-2000, so it still serves a purpose."
The website includes a sort of showcase for the art montages that represent each decade's immersion. He hopes to upload videos in future.  His documentary about the research process of being Bowie already has a trailer on the site.
Part of his immersion tactic includes not listening to any music outside the era he plays. Therefore Brooker has not listened to Bowie's last album, Blackstar. Although he admits that he did listen to 'Lazarus' once when he went to stage play of the name in New York last month. "That was a form of cheating within my research but it seemed excusable. I haven't listened to any more of Bowie's recent music or seen the videos.
"I think it's just as valid, and quite possibly more useful, to study something after it's over, rather than while it's still going on. So the events around Bowie's death and his last work will be just as easy to examine when I reach that point in my chronology, in May/June 2016," he said.
Brooker finds the amount of media coverage he has had to deal with to be useful in terms of what it is like to experience a small kind of 'fame'. He reflects on what it is like to be in the eye of media. "What it's like to have your image and words circulated internationally, and not fully belong to you anymore, and what it's like to be praised or criticised by people you don't know." It has motivated him to live up to the expectations of what it means to become Bowie.
"I think I make more effort with it because I know there is an audience for it."
What's next for Kingston's Bowie?
Currently he is getting ready to enter the 1997-2003 period Bowie and plans to start writing the book in February.
"Meanwhile I will be continuing to perform my tributes as Bowie, trying to embody what he was doing during the 'Reality' and 'Heathen' albums and tours," he said.
"It's a very healthy period for Bowie so boringly, I am drinking a lot of Vittel water, which he advertised during the period, keeping fit, cutting down on alcohol and eating sensibly. Perhaps this is why I want to return to the early 70s at some point."
Given the chance to talk to Bowie only for a few seconds, Brooker said he "would give him my number and say 'text me later'."