Cheats have been running rife in the game and Activision say they've fixed the problem, but have they?
Activision has enhanced its anti-cheat software and earlier this month banned over 60,000 accounts from Call of Duty: Warzone for violating its code on cheating.
This follows a spate of high-profile Warzone players criticising the creators of the game mode for not doing enough to stop the thousands of users using enhancements to cheat on the game.
Call of Duty's (COD) multiplayer battle royale game mode Warzone has had over 75 million users since its launch in 2019 but many of its more casual players have reservations about the state of the game in its future.
Fenton Booth, a Kingston University student, said: "COD banning over 60,000 accounts has not solved the core problem, they need to do more to ensure players cannot simply create a new account and carry on as they left off.
"They have to stop the ways players cheat and focus more on that side, rather than simply banning people and hoping the problem goes away if they can't solve it then what is the point in me playing."
Activision, publishers of six previous Call of Duty games, has previously condemned all cheating.
However, players who have abused the game mode and cheated in the past do not see the huge problem their actions have caused.
A student at Kingston University, who wished to remain anonymous, had his account banned due to cheating three weeks ago, before Activision, suspended over 60,000 accounts.
He said: "What is all the fuss, I enhance my gaming experience just so I can be at the same level as other people, there is no harm in what I am doing at all.
"If what I am doing is so bad then why is the game mode easy to hack into, no one is affected by cheating. All it means is I might win a few more games."
But YouTuber Vikkstar123, who has over 6.9 million subscribers on his YouTube account and is a partnered streamer of Call of Duty: Warzone, has publicly stepped away from the game and quit playing COD's multiplayer game mode.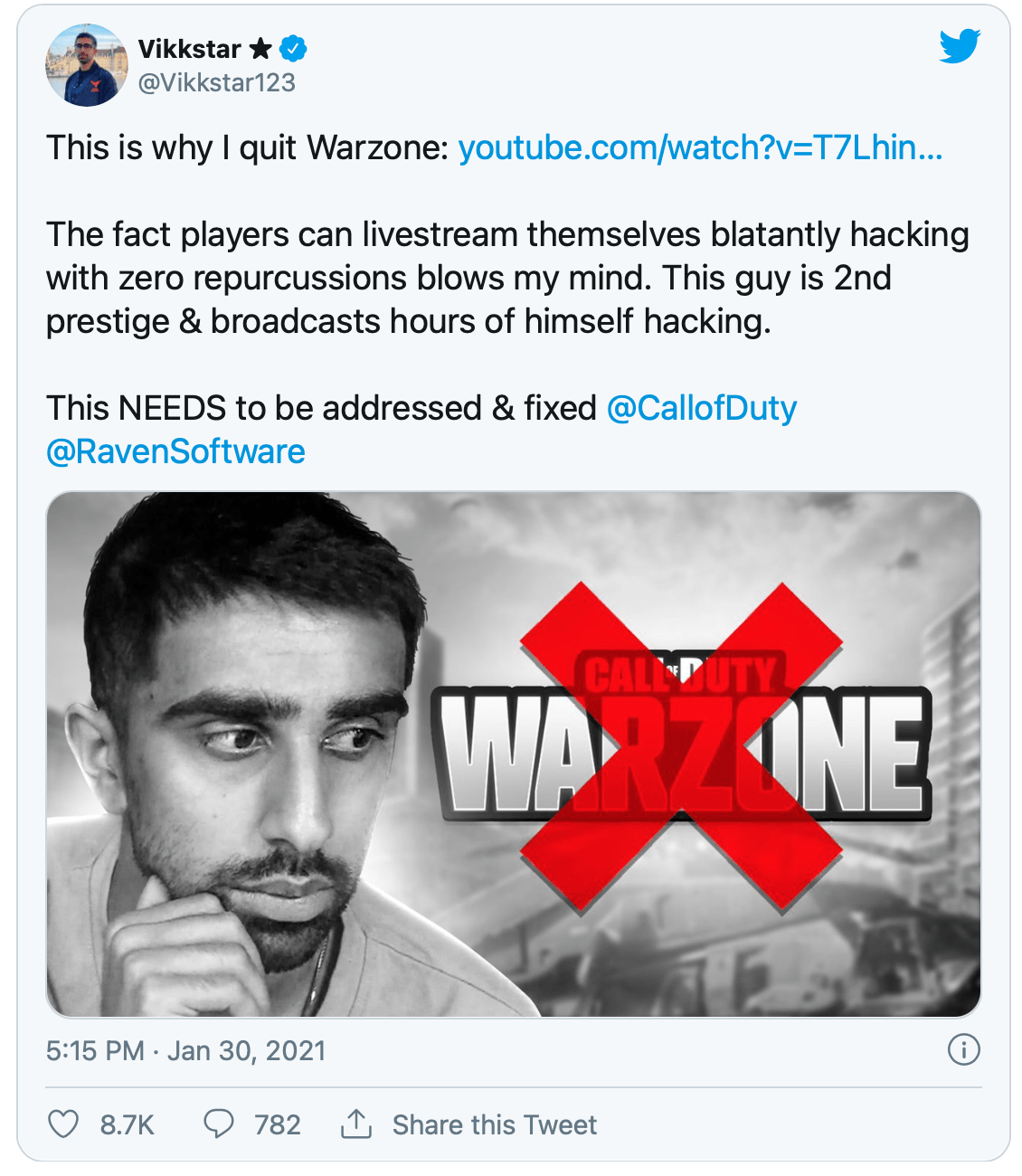 Vikkstar123 claimed in a YouTube video that the game is "saturated with hackers". He has also said: "The game was in the worst state it has ever been in."
The UK based Vikstar, also known as Vikram Singh Barn, explained in a video why he was stepping away from the game. 
Gamers will hope that Call of Duty is not overwhelmed by cheats and that the work carried out by Raven Software, the games software creator, will go some way to solving the problem.