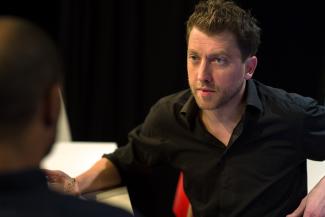 For actor James Thorne, performing has not always been a glamorous experience. His first production, where he starred as the rear half of a pantomime donkey aged six, would have put off most budding actors.
"The boy in front was not very well," Thorne says. "I went into the donkey completely healthy and when I came out I had mumps. I literally came out looking like a hamster."
In the absence of a prestigious debut, he used his disappointment to create goals for the future instead of submitting to defeat. "I am a glutton for punishment and you do not get much credit being the back-end of the pantomime donkey so it did not really fulfil my need to be appreciated and applauded," he says. "I wanted my next show to at least be one where people could see my face."
Thorne has since played in The King and I in Leicester and Macbeth in Hull. He also featured in the films Imagine Me and You and The Magic Flute
Intriguing comedy
His current project, in the premiere of Terms and Conditions, is a far cry from a donkey. In the intriguing comedy about a young couple who find their new home comes fully equipped with a mysterious stranger in the cellar, Thorne plays best friend and builder Les.
The play not only allows him to perform new work to an audience, but it enables him to explore his "inner lad" while playing the character who, despite having a darker side, is a typical Jack the Lad at heart.
New ambitions
Despite having a career in acting for nine years now, Thorne originally started adulthood with a law degree and his parents were initially sceptical when his ambitions changed.
"When I first decided I was going to pursue it my dad did say 'how long is it going to be before you give this up and get a real job?', but I'm sure he did not mean it," Thorne says. "I think he had visions of me being penniless and destitute for my entire life. But I was lucky and got a scholarship for drama school, which helped them relax, especially when I started working pretty soon after signing with my first agent."
While he enjoys experimenting with new material, he cannot deny that his dream role is somewhat of a cliché in the acting world. "I would love to play Hamlet," he admits. "It is a role that, as an actor, you hope you get to perform at some point."
Thorne can currently be seen in Terms and Conditions at the White Bear Theatre, Kennington until December 1.