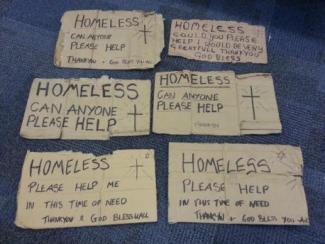 In all the excitement of the festive season it is easy to forget that not everyone will be in the mood for celebrations this year. The Surrey Comet has reported an increase in homelessness in Kingston this year.
According to government figures at least 26 families or individuals have been classified as homeless.
Kingston Churches Action on Homelessness (KCAH) outreach worker, Dan Wheeler has spoken to the Comet about this issue. He said: "In Kingston I would say there will always be at least 20 to 30 people sleeping rough at any given time."
It is difficult to pass someone in need while walking the streets of Kingston. I wish I could give homeless people more than just spare change but it's not always so easy – being a student and all.
While living in Surbiton I used to pass a homeless man and his dog outside HSBC every day. I rarely walked by without giving him something, even if it was only a few pence. Finding out that this man was, in fact, a charlatan brought about a surprising sense of betrayal.
This 'homeless' man has recently been convicted of fraud in Wimbledon Magistrates' Court. He has been receiving benefits and lives in a flat.
This makes a mockery of those who are genuinely in dire straits. If anything it may make those willing to help suspicious of whom they're giving their money to. How can one tell the difference between a con artist and someone who is down-and-out?
Wheeler stated: "I would discourage giving cash to homeless people…by giving to charity, we can put the money to help them with housing, getting into programmes and getting off the streets."
As tough as it is to pass someone in the street with nothing more than a sympathetic smile to give, I think he is right. Maybe if we saved the money we would otherwise give to the homeless and donated it to charity there would a better chance of helping those who need it most, rather than run the risk of wasting funds on those taking advantage of good people.
On January 25, YMCA London South West will hold a fundraising event in Kingston memorial gardens. Sleep Easy is an annual event where people will spend a sponsored night sleeping in the cold between 7pm and 6am.
For more information on how to get involved or donate is available on their website. Donations can also be made to KCAH through their website.
This short documentary is a great insight into the issue of homelessness in Kingston. It was made by Kingston University students; Clement Johnson, Jagoda Suchenia, Lia Garbola and Jasmin Azzopardi Schellman.