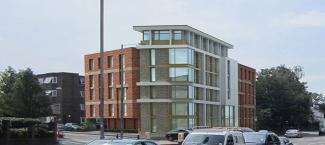 New private halls of residence are being built just two minutes from Penrhyn Road campus with a top-end price for a studio flat of £14,500 for the contracted year of 50 weeks.
Privately owned by Fresh Student Living, StudentQuarter Kingston will be open to all full-time students at any university in September offering a choice between a £290 per week studio flat and a less expensive £185 per week ensuite room with a shared kitchen which will still cost students over £9,000 for the year.
The highest rent paid by students living in Kingston University's student halls of residence is currently £132 per week for a 'superior' en-suite room with shared kitchen at Kingston Hill.
First year student Emma Smith, 19, said: "I don't think there's any place for more overpriced halls in Kingston – as a student I'm struggling to pay my bills in a low budget flat so I don't know how anyone would be able to afford it.
"I know there are already two expensive private halls of residence in Kingston but I don't see how there can be demand for another one. Students do need accommodation but it needs to be reasonably affordable."
The halls will be the second to be built by
Fresh Student Living
in Kingston – the first being
Quebec House
situated near Kingston railway station, which offers students a choice of studio rooms and has a top end price of £390 per week for its largest studio flat.
Kingston University also has its own private halls situated in Kingston town centre,
IQ wave
, priced at £211 per week for a 50 week stay in a small studio flat.
Third year quantity surveying student Amritpal Singh, 22, said: "Living costs for students living away from home are high enough as it is and with tuition fees of £9,000 per year, students are leaving university with huge amounts of debt. With the economy the way it is it's tough for graduates to get jobs especially as there is so much competition."