New Vic Theatre Production, Around the World in 80 Days came to Kingston's Rose Theatre mid October.
Directed by Theresa Heskins and adapted by Laura Eason – the bubbly show stars eight actors who play over 125 characters between them, and will be touring up and down the UK until January.
The River secured an exclusive with cast members Joey Parsad, founder and principal of JADA Theatre School, Southend-on-sea – and Matthew Ganley whose TV credits include Shameless and Waterloo Road.
The actors spoke about what sort of audience the show has drawn. Ganley said: "It's been popular with young people, it's such a good family show. When I say 'family show' I mean a child of any age would both love it.
"It caters to everyone, there's humour in it for the adults there's lots of silliness and physical theatre that the kids love."
Parsad clarifies that the company started three weeks of solid rehearsals on 28th May, before the show opened in June. She says: "I think it's great to see a show that's a full show, ours is a solid two-and-a-half-hour performance that isn't a musical, but still is high energy, punchy an constantly on the go. I feel that's quite rare."
Moving away from the comfort of the audience's seat, Parsad and Ganley enthuse on their biggest influences and how they've reflected them into Around the World in 80 Days.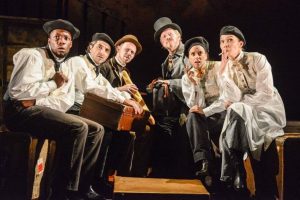 Ganley says: "I get inspiration from the people I work with, what I would say about this company is that from day one we've felt very safe to take risks and then go there and be fearless.
"I've drew my inspiration off the company for this show. The dynamic was set up, that gave us the freedom to play and make mistakes."
Parsad follows saying: "One of the biggest influences for me was one of my drama teachers at drama school, who was a clown really, he taught us clowning and physical comedy. His message was always "don't be safe and take risks."
"I feel like this show especially is full of that in the creating process, but like Matt says, when you're working with great people you're feeding off that all the time, an your constantly inspired everyday like in rehearsals it was such a joy."
Around the World in 80 Day's next stop is at Cambridge Arts theatre from 14 November to 18 December, for all the information about the Around the World in 80 Days live tour visit http://www.80dayslive.com/