The Australian Instagram model, Essena O'Neill, recently quit social media claiming it is a "contrived perfection made to get attention". Her 600,000+ followers brought in an income of at least $2000AUD per post. Ironically, I had no idea who she was until her video went viral during her anti-social media campaign. She edited her entire Instagram page; rewriting picture captions and deleting images she felt gave a distorted vision of real life.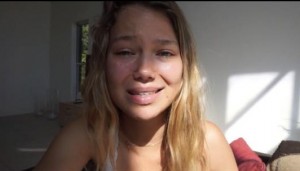 When you are making that kind of money effortlessly posing for a group of photographers, the apparent next step would be to release a YouTube video hysterically crying. She claimed that "having it all on social media means nothing to your real life"- congratulations on stating the obvious. Essentially, whilst trying to slam social media, she promoted her message via social media – proving it was all just an attention seeking act to wallow in self-pity. If the campaign and message was genuine she would simply shut off all social media, instead of inviting others to promote and back her via social media. The video is painfully infuriating to watch; she is crying because she has everything when there are people crying because they have nothing.
Worst part? Many people are calling the model an 'inspiration'. Malala Yousafzai was inspiration. Nelson Mandela was in inspiration. The group of people who fought the 9/11 hijackers and changed the plane's flight path were inspirations. Essena O'Neill is not an inspiration. There is nothing inspirational about telling people it is a miserable life to spend hours posing for an Instagram photo – that is part of modelling and she should consider herself lucky to be successfully employed so young.
Whilst her message about social media consumption correlating with depression is plausible, the way in which she presents her argument compounds the same attention she claimed to have wanted to avoid. The recent study carried out by think-tank Happiness Research Institute backs her corner, after it found that quitting Facebook makes people happier. The participants of the study reported they felt more enthusiastic, less lonely, less worried and more decisive after not using the website. Researchers found this was because Facebook tends to cause people to envy the lives of others. Whilst the findings of the research could be applied to Essena's argument, she lacks credibility in the sense she was a paid product of social media compared to an addicted consumer. Essena's situation is not applicable to reality. Social media is also used in a multitude of positive ways, benefiting businesses, politics, the economy, journalism and many more industries.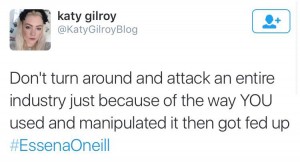 The ultimate conclusion is that people who are products of social media cannot provide a legitimate source of criticism for consumers. We cannot revolutionise the entire internet in case someone has an over sensitive perspective. Our society is not stupid enough to think that media platforms directly mirror real life. For Essena, modelling was a subjective career choice. Don't like it? Change job. Don't agree with the message it portrays? Delete social media. Contradicting your entire argument is not the way forward. If you are going to get involved in the online model business, clearly you should know how to separate your work life from your personal life.