After an academic year characterised by remote learning and few opportunities for in-person interactions, it could not have been more exciting to welcome both new and familiar faces to our campuses.
Freshers' Week delivered big smiles, open arms, cupcakes, movie nights, an accordion, and lots of names signed up for KU's incredible spectrum of societies.
Thanks to the talented KSA graduate, Sophia Nasif, 28, for capturing some of the best moments of the week.
Photo credit: Sophia Nasif.
The full gallery will soon be available on the Union of Kingston Students' social media pages: @kingstonstudents.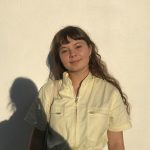 | News Editor | she/her
My areas of interest include LGBTQI issues, photography, and print journalism.