From having dropped two heavy projects last year, the talented rap icon Future Hendrix keep surprising his fans with new releases.
The Atlanta star dropped his new project on February 17 and released his new album, HNDRXX,  on Friday.
The LP is self-titled and features no other artists, but this is not a new thing – the only guest appearance in the DS2 project was Drake, who co-produced 'Where Ya At'.
HNDRXX, which features 17-tracks, demonstrates Future's continuous growth and also gives a collection of intense feelings referring to his lifestyle.
Future has also announced a tour called Nobody Is Safe, during which he will be accompanied by Migos, Tory Lanez, Kodak Black, as well as A$ap Ferg and Young Thug for selected shows.
Future is known by his fans as a hard-working and consistent artist who produces lots of content. Since breaking up with R&B singer Ciara in 2014, his music has continued to thrive.
The album EVOL last year scored third number one album on Billboard top 200 chart.

His first song in the album, 'Rent Money' sets good energy and shows that Future is back even stronger than before.
The bass beat is intense and repetitive and his voice moves away from his usual mumbling to clearer rap lyrics you can understand.
The song 'Draco' is arguably the best on the album due to its laid-back sound and a melody that is instantly appealing and memorable for the people who have grown listening to his music.
One that is likely to become a club banger is 'I'm So Groovy', which is a song you can listen to when you are preparing to have a good night out.
We discover an emotional side of the rapper with the song 'When I Was Broke', in which he sings about a woman who held him down when he did not have any money coming in.
The closing track 'Feds Did a Sweep', Future sings about all his close friends he lost to the street life.
In the first verse of the song you can feel the emotions he went through when he said: "You don't want to feel my pain, it's going to drive you insane."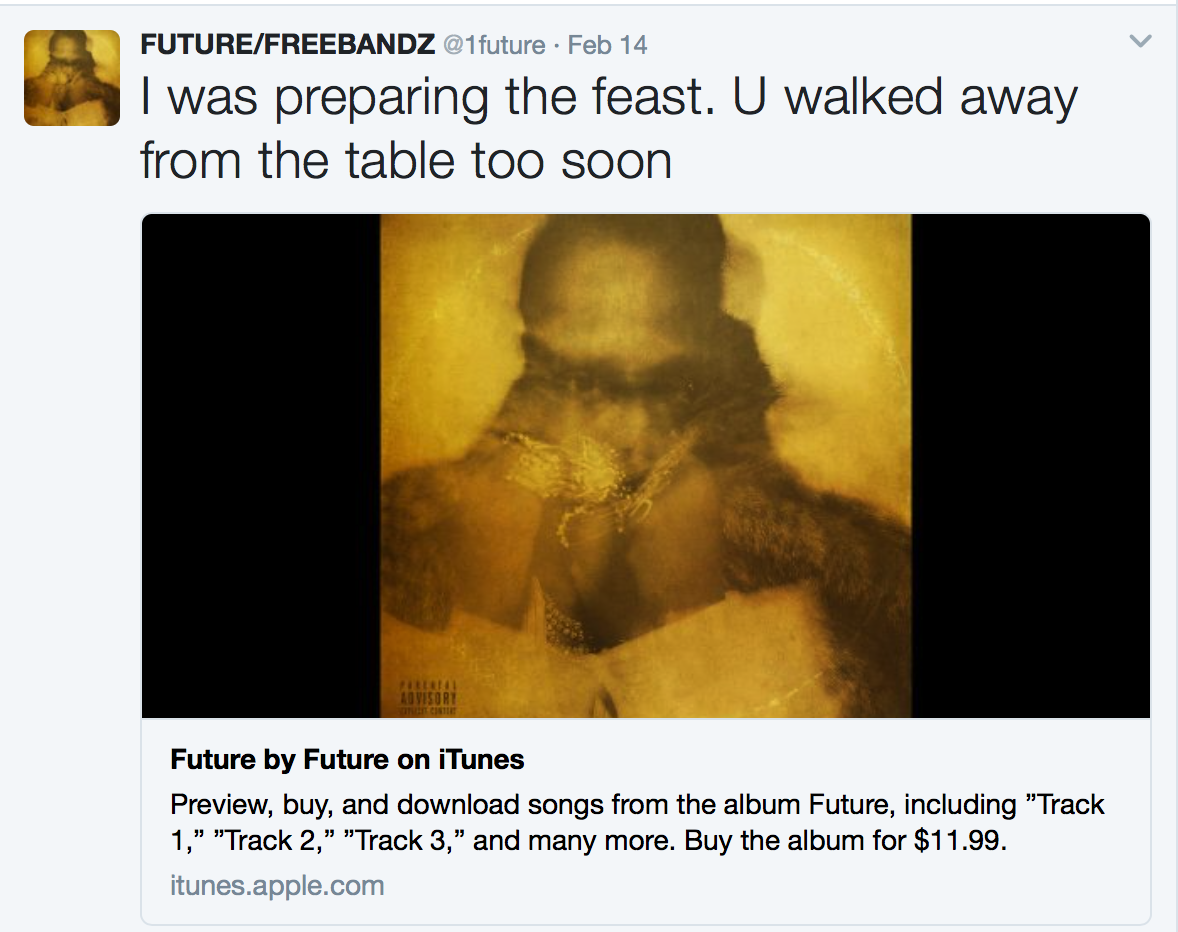 The 33-year-old reflects on his journey in a lively way in the song 'Mask Off', and the sound of flutes are evident on this track, giving it a smooth tone.
In his recent interview with Beats 1's Zane Lowe, he stated that he didn't want his new album to be compared with the rest of his albums.
He said: "It's separate things, a different lane. Hopefully, this lane can be longer than the lane when I had the driving force to put out those projects.
"I want this lane to have its own potential to be something that can surpass that," he added.
The 'March Madness' superstar also said he was working on a video for 'Super Trapper', track five on the album which is out now.
Future continues to be authentic and true to who he is, a lyricist who never lets anyone come between him and his music. He even deleted his Instragram account at the beginning of the year.
In response to the uproar on social media, he said: "I wanted to give attention to my music, my kids and my family. I wanted to give my fans all of me."
The songs are powerful and catchy which shows that the rapper did put his all into the album.
Notable tracks are 'Draco', 'I'm So Groovy', 'Mask Off' and 'Might As Well'.
The album is now available to stream on iTunes and Spotify.