September would usually be the busiest time of the year for universities, as students are returning, but this year things look a bit different.
COVID-19 has ruined plans for students' across the UK who have just started the new academic year. It's a virus that none of us could have imagined a year ago, and just like an unwanted relative, it has arrived when everyone least expected it.
When COVID-19 struck at the beginning of this year, most of the academic schools sent their students home and switched off the lights at campuses.
However, September came, and the lights had to be switched on. Normally that would be enough any other year. But this is 2020, so universities had to prepare their premises like they have never done before.
I went around four South West London universities – Wimbledon College of Arts, Roehampton University, St. Mary's University and St. George's University – to see the results.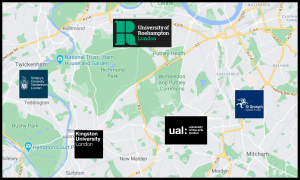 Of course, all the universities have decorated their premises with hand sanitisers and have separated their corridors using fences and stickers in order to maintain social distancing.
Roehampton University even had such instructions for their students outside of the buildings. Not only do people have to keep socially distant outside, only those with university's ID cards can enter the campus without registering beforehand. Otherwise, your visit could be quickly ended by university's security.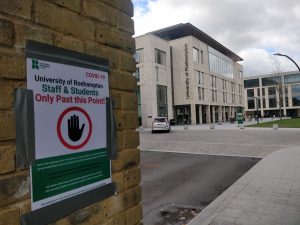 Other universities that I have visited did not have such restrictions but there was another thing they all had in common. They looked like ghost towns.
A huge space just in front of Roehampton University's campus where you would normally see students hanging around in between lectures was sad and empty on a weekday in September. Probably something any KU student who has returned to campus this year could relate to.
St. George's University campus was a bit more lively. Their shop and café are open and students need to keep socially distant there and not queue outside in the corridor.
What struck my eye were huge, two-metre posters that informed students how to keep safe on campus during COVID-19. Although there were not many people to inform.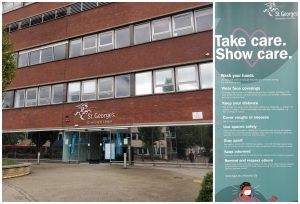 St. Mary's University in Twickenham was also looking empty with only a few students walking around a huge main campus.
This university stood out of all visited. It had hand sanitizers even outside of the buildings with the automatic gel dispensers looking like a tap rather than the normal dispenser you would find everywhere else.
Another aspect I could not find at any other university except St. Mary's was the wall-mounted thermometer. At the reception of the campus any student or a staff member can have their temperature checked just by standing in front of the thermometer for two minutes.
This feature could really work for every university – if a student or a staff member feels that its body temperature is rising while at university, the thermometer can be there to clarify.
So far none of such features are there to be seen at Wimbledon College of Arts. A constituent college of the University of the Arts London, it is still preparing its premises for the first day of the new academic year – October 19 2020.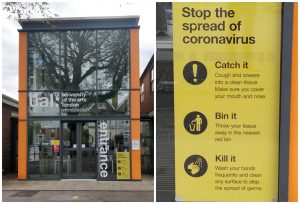 Programme Director for Performance Design and Technologies at Wimbledon College of Arts, Dr. Esther Armstrong said: "Our current position is to make sure we have blended learning.
"We are preparing for social distancing. We aren't restricting people in terms of numbers, but we need to make sure we are at a level where we aren't breaking government guidelines."
Starting only in mid-October, Wimbledon College of Arts surely will be looking at other universities around the area to see if their guidance and restrictions are working. We can only hope for a positive turnaround – ghost towns must be universities again.