She is five years old, likes to paint and spends her day playing basketball and skateboarding. But, no, she is not a child in primary school – she is a border collie cross kelpie.
Ruby knows over 50 tricks, but it is her artistic ability that stands out – her owner, Megan Taylor, 19, has already sold hundreds of pounds worth of her artwork for charity.
Ruby completed her first painting in July last year and each piece takes around 40 minutes.
Animal behaviour student Taylor, who suffered a fractured skull in 2011, said: "I started training Ruby when I got her as a puppy. I got her two years before my accident but I just enjoy spending time with her and training her.
"We use a dust sheet to avoid mess."
Taylor, with the help of Ruby, is able to continue to enjoy her life, despite her injuries, and uses the things she has taught Ruby to brighten up the lives of others.
Ruby has raised hundreds of pounds, for charity with her paintings and is currently part of an online dog show aimed at raising more money.
Taylor said: "I do not know an exact figure but we have made around £500 so far through selling Ruby's artwork and we are also currently doing an online dog show to raise money for Dog Aid. I do not know how much money that will raise yet but it finishes in three weeks' time."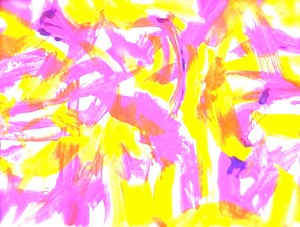 Ruby's achievements do not end there.
The clever four-legged artist was recently honoured with a commendation from the PDSA for enriching the life of her owner and providing comfort to others through her role as a Pets as Therapy dog and could soon be passed to train as a fully-fledged assistance dog.
Taylor said: "It was a big shock when I found out she had won it PDSA commendation and I was so proud that she was recognised for all the joy that she brings to so many people.
"Some people in the nursing home that stay in their rooms all week, when Ruby comes, they will get up, have a shower, come down and interact with people – so, it is really nice.
"Soon, she has an assessment with a charity called Dog Aid – who help people to train their own assistance dogs – so I am hoping she can respond to my fainting episodes, which will give me a lot more independence."
She said: "I fainted during a remembrance parade that I was attending with my scout group. As I fainted, I hit my head on the kerb which made my skull fracture in three places. Since the accident, I have been left with hearing loss, poor balance, dizziness and regular fainting episodes.
"On an average day, I will faint between four to eight times but, on a really bad day, it can be 50 plus.
"Ruby helps me a lot just by being my companion and my friend. We volunteer together with Pets as Therapy – which I enjoy because it cheers all the people up. We visit over 100 people every week in need."
Taylor also hopes that she can advance far in her own career and use her current volunteering and educational experience, as well as her time with Ruby, to accomplish her goals.
To get a closer look at Ruby's work and achievements, visit:
www.rubythesuperdog.weebly.com