An ethical fashion website has introduced a clothing line to help a women's organisation keep its doors open and continue to keep female migrants in London safe.
Birdsong London which was co-founded by Sarah Beckett who grew up in Kingston, sells products online from women's groups in the UK which have been hit by funding cuts.
The online retailer has teamed up with Heba Women's Project in Brick Lane who offer a space for migrants to meet friends, learn English and sew. The founders hope that the collaboration will keep the centre afloat.
Beckett, 26, said: "We created the new clothing line with Heba Women's Project to help them move towards sustainability. The pieces are made by the migrant women who are a part of the organisation and receive £10 an hour.
"The new line is really exciting for us as it's the first time we've done the design in-house, meaning we've been able to tailor it to our customers. The new line is a kind of capsule collection, but leading to bigger things as we grow."
Beckett took part in the Year Here programme in 2014 in Kingston which is a course aimed at graduates who want to create solutions for social problems.
During the course Beckett was placed with Stay Well (formerly Age Concern Kingston) working at their day centre near Knight's Park campus.
"As part of my placement, I ran art classes with the over 60s there and matched up Kingston University students  with the older people to run an arts exhibition.
"That laid some of the foundations for Birdsong because we are now working with the knitting group there. The money they've made from selling scarves and jumpers with Birdsong has been used to refurbish the kitchen. It's so good to see."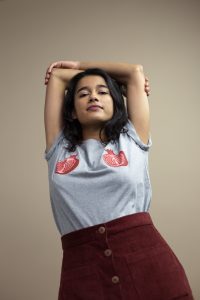 Birdsong was developed after the co-founders recognised a need for a website that sells handmade clothing by women's organisations who are not fully equipped to sell the items themselves.
Birdsong is "committed to supporting women" in everything that they do, also sell items crafted by survivors of trafficking in India and sex workers in Thailand.
"Around 50 per cent of our women's organisations are based in the UK but we work with some organisations overseas. These groups are amazing and we want to continue working with them," said Beckett.
Birdsong now generates £18,000 a year in sales revenue of clothing made by the women's organisations, and confirms that that the women who make the clothes get paid for the work they do.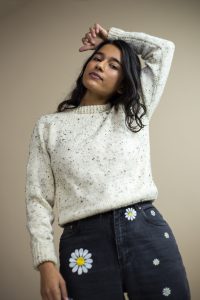 Beckett said: "We offer real transparency here and our customers can always find out more about the organisation that their items have been made by and how much goes back to them."
Birdsong have confirmed they would love to collaborate with Kingston University students with a fashion backgrounds. If there are any students who are able to write hand knitting patterns then they'd love to hear from you.
So far the new collection consists of:
-Ripped bodysuit
-Satin slip dress (both midi and maxi length)
-Hand painted jeans
-Emerald satin shirt
-Box jacket