Kingston University paid tribute to a graduate who died in the EgyptAir plane crash when the flight disappeared off the radar over the Mediterranean Sea in May.
Richard Osman, 40, was the only British passport holder on board flight MS804 heading to Cairo that crashed soon after it entered Egyptian airspace.
Emeritus professor Andy Rankin, who taught geography, geology and environment at Kingston University, remembered Osman as a hardworking student. He said: "Richard was bright and conscientious, with a particular interest in mineral deposits and exploration."
Osman boarded the plane two weeks after the birth of his second daughter, Olympe. His wife Aurelie and two daughters were believed to been in Paris where he boarded the plane.
Osman worked as a mining executive for Centamin, a gold mining company, and made monthly visits to Egypt for work.
He was born in Carmarthen, Wales, and settled in Jersey with his wife and two daughters. After graduating from Kingston, he went on to Camborne School of Mines in Cornwall to continue his masters. A Kingston University spokeswoman said: "Richard Osman studied at Kingston University from 1994 to 1997 and graduated with a BSc (Hons) in geology. Staff at the University had been saddened to hear the news of Mr Osman's death."
He was the eldest of four and was the son of an Egyptian doctor who travelled to the UK to pursue his career as an ear-and-nose doctor in Swansea.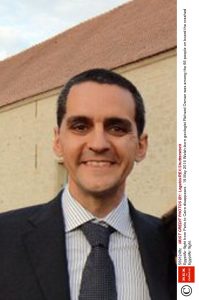 Alistair Osman, Richard's brother, told ITV News: "Richard was a very kind person, loving person, very focused. He was a workaholic and never deviated from a straight path. He was a very admirable person and a lot of people admired him for his strength and values."
Debris from the plane was found a few days after the crash was reported, and a month later the black box was recovered and was sent to the French authorities.
Egyptian authorities speculated that it was more likely that terrorists attacked the plane than it being a technical error, but no terrorist group admitted to the attack.
The French launched a manslaughter investigation after retrieving data from the black boxes, saying that it was due to a fire in the cabin rather than a terrorist attack.
According to the France's Aviation Agency Safety, there were automated smoke alarms sending signals before the plane crashed, warning about the flight control unit.
Alistair Osman said: "Of all the family, I would've thought Richard would have been the last to go. Richard was so happy at the birth of his second daughter, and yet two weeks later he is no longer with us – it's an absolute tragedy."
French authorities have been analysing all the data they recovered from the black boxes, but a case like this may take up to two years to know exactly what happened.
The final report said that the possible cause of crash was a fire. The airplane did not send any distress signals at the time, but it was reported that the airplane took a sharp turn before it plummeted.
Among the 66 victims, 56 were passengers, seven were crewmembers along with three security personnel.
Though plane crashes are rare Egyptian tourism has suffered drastically. Tourism dropped by 40 per cent after the accidents, which has been on a downward spiral since the Egyptian uprising in 2011.