A KU PhD student and former senior executive at TalkTalk has brought the telecoms company to an employment tribunal for unfair dismissal and paying her up to 40 per cent less than her male colleagues.
Rebecca Burke, 43, from Yateley in Hampshire, is currently completing her PhD in equal pay, and is waiting for a tribunal panel to rule on the case, but said she was glad that the court proceedings were over.
"Unfortunately, as the victim, you're the one who ends up being put on the stand, so it's really not a nice process or experience. I'm relieved it's over," she said.
According to Burke, her salary of £110,000 was 40 per cent less than her male colleagues who had the same job titles and responsibilities as her, and the men received 50 per cent more in bonuses.
The proceedings took place at the Central London employment tribunal in Holborn at the end of January this year.
She helped lead TalkTalk's cybersecurity programme following a high-profile data breach which cost the telecoms company £77m, alongside four male colleagues in similar roles.
Burke said she was unfairly made redundant from TalkTalk in May 2017, leading to her claiming unfair dismissal.
In an internal redundancy appeal hearing in June 2017, Burke found out that she was being paid less than her male colleagues and it was then that she began the process of claiming for sex discrimination too.
She said: "It actually slipped out at the unfair dismissal appeal that the three men who were doing the same job as me – they had the same job title and reported to the same boss – were not pulled with me for redundancy.
"They were on a higher graded salary than I was. I then raised a grievance which was about equal pay and sex discrimination because I was the only female, and they were all male. As far as I could see, everything was the same apart from our sexes."
Burke launched her equal pay case in 2018, and it has been ongoing since, only recently coming to the stage of judgement, which could take anywhere from three months to a year.
"It can be never-ending once you start on a litigation journey, there's really no clear end. But this was a particular battle that I decided to fight, and I wanted to commit to getting it all the way through to court and have my truth," she said.
TalkTalk was approached for comment, and a spokesperson said: "We strongly refute these claims and we do not tolerate gender discrimination of any sort, including with regards to pay.
"This is an ongoing case so we cannot comment any further. However, we're committed to treating all our employees fairly, and we are confident there is no disparity in pay between genders."
The case follows KU guest lecturer and BBC presenter Samira Ahmed's victory in her equal pay tribunal against the BBC.
Ahmed and Carrie Gracie, the BBC's former China correspondent who was also found to have been underpaid, have reached out to Burke to show their support for her campaign.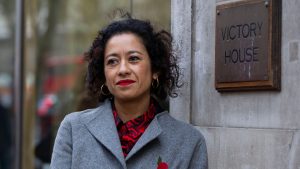 Burke hopes her case will be a landmark in progress towards equal pay. But she acknowledged that given previous cases, it could be either a positive or a negative outcome.
"In my view, it was such an obvious case, but I think as you go into the realm of probability of cases being won based on evidence, then you realise that the truth isn't necessarily always enough and there's an awful lot of other factors involved," Burke said.
She emphasised the importance of creating a world in which women going into the workplace will be able to know they are being paid at the same level to their male peers.
She said: "Keeping the pressure on, knowing your rights, and asking questions around those rights need to be what the next female workforce aim for in every pre-recruitment conversation they have."
Since going public with her fight, Burke has been approached by a number of women in the same or similar situations to her. She plans on reaching out to these women to support her PhD research.
Burke also completed her Masters at Kingston University and graduated in 2007 with an MBA degree in business administration.