At first glance, law student Anosha Anwary, blends in with the smart, well-dressed students of Kingston University's business campus – Kingston Hill. Beneath the shy and modestly dressed appearance, there is a determined and creative young Muslim woman. Her career goal is to become a successful lawyer, her passion lies in designing decorous but stylish clothes and changing the perception of Muslim women's fashion.
"In a world where judgment is so popular, the first phase of judgment is through vision. I hope to empower and set no boundaries between Islam and the rest of the world through fashion."
The 22-year-old started her brand, Avyaana Abayah, as a hobby in 2014, in her first year at Kingston University. She felt the fashion industry did not offer enough choice for young Muslim women and felt frustrated that she could not find clothes that reflected her unique personality and character.
"I decided to start my brand in order to give a voice or empower women via wardrobe choices, because, in my opinion, how you present yourself is a huge reflection of who you are.
"I believe that it is so important to feel comfortable in your style and choice of clothing. If you are not confident in the way you dress you will never be confident in anything you do. People usually judge you on how approachable you are or what type of person you may be through the way you dress and carry yourself."
"Muslim ladies need to be modest in the way they dress, this means their clothes must not show the shape of their body to attract unnecessary attention which could lead to preventable situation. My collection is modest but trendy, the "trendy in style" part contributes to Muslim women's needs, because Muslim ladies are not boring. They also have desires to look good and feel good."
Anosha is her own boss and does everything herself. She is the designer, buyer, salesperson and she produces her own advertisements. She recognizes that customer service is extremely important and aims to deliver impeccable customer service to ensure her customers return and spread good feedback about the brand to others. She even manages the finances of her business. Student invested 50£ to make her first design and used the first income of 100£ to create more product.
"All of this requires determination, organisation skills, target-setting, dedication, time and effort. Through this I hope to lead an example to other ladies, especially other Muslim women, to empower them in the sense that if they want to achieve something in life, they can. There is nothing holding them back to do what they feel passionate about, because hard work always pays off in the end."
Her latest collection, called "Modesty Street Style", incorporates urban fashion with modesty and shows that Muslim ladies who cover up can also look bold, intelligent and stylish.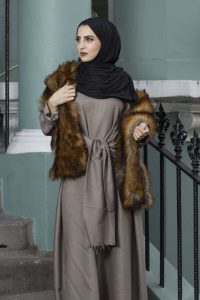 "By choosing to cover up we are not choosing to be dull, we have not lost our personality or character. We too can achieve just as much as anyone else can. Through this collection and my future work, I hope to break the shadow or bubble that Muslims are put inside, because of the way they dress."
Anosha is a true inspiration and a great example of how hard work and determination is your only recipe for success. She spends four days going to university for lessons and on her days off she dedicates half of the day to focus on her education and the other half to her business.
"I am not making a huge amount because I want to keep a balance between my business and studies but when I finish education, I will put in more time for the business and I will make more than I am making now, I have enough demand to guarantee this."
"My passion for fashion will never die so I cannot say that it will stress me out if I focus too much on it because every piece helps me improve my style and skills. I think that if you want to be productive and use your time wisely you really have to plan the day and stick to it, that way you are motivating yourself too. For example, I use the business to motivate me into studying for my degree. I study for a given period and when I have completed an assignment or revising I allow myself to go and focus on my designs and the business."
Luckily, the young designer gets all the support she needs from her family and friends.
"My friends are always happy to model for me, be my photographer or add their input on how I can improve the business. Three of the girls in my collection "Avyaana X Modesty Street Style" are also from Kingston University."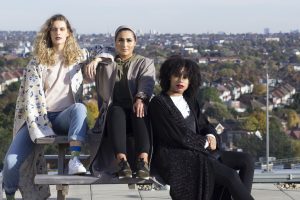 After graduating from Kingston University, Anosha will be pursuing her dream of becoming a successful lawyer, but there will always be a place for fashion in her life.
"Even if no one likes my designs or I had not been noticed for my work I would still be designing because it makes me happy."
She would also like to hold a charity Gala and would use her business as an opportunity to accomplish that.
"I also hope to showcase my designs on the runway at some point, but the ultimate goal is to add value to someone else's life no matter what I am doing. No matter where life takes me, I know that I will always do what makes me happy, and for anyone reading this article, YOU too should do what you are passionate about. Work hard because hard work always pays off, be passionate about what you do and enjoy every minute of it. Do not wander this world without stopping at each step you take to look around you and admire the beauty of it. Be curious, for curiosity leads to knowledge, and knowledge is power. Finally, be kind and make as many people smile as you can because everyone is struggling."