Angry students have slammed the recent increase in rail fares as services still lack improvements.
Rail fares have risen by an average of 2.8 per cent on the South Western Railway (SWR) network from 2019, and it is unknown whether they will continue to rise later in the year.
Sophie Pullen, a third-year publishing with English literature student who commutes from Kent, said: "If the service was getting better then it [rail fare increases] would be more understandable."
Over 50 per cent of students at KU currently commute to the University, with many students having to travel across London.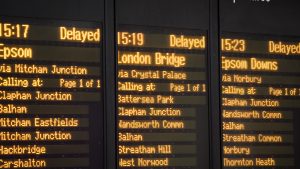 Sidney Fitchett, 20, who commutes from Hastings, said he appreciated how cheap commuting is compared to living in Kingston, but has issues with the services, especially when strikes keep happening on the network.
He said: "In the south, whether it's South Western, South Eastern or Southern, the trains are always unreliable at some point of another.
"I don't think it's acceptable for them to increase train fares when the services over the last few years have been average or below average."
A spokesperson for SWR said: "Nobody likes paying more for fares, but we're working hard to improve our performance, and we're investing £1.2bn to introduce modern trains, extra services and more capacity."
South Eastern Railway (SER) said that in June 2019, South Eastern saw 80 per cent of customers fairly or very satisfied with their journey and that SER is just one of three train operators in Britain "to show a significant year-on-year improvement".
So far across the SWR network, the line from Waterloo to Shepperton has seen new trains which are not only more spacious but also have 5,000 more seats for customers across the entire network.
Pullen said she wanted better waiting conditions for her two and a half-hour commute each way.
"I think there should be conditions in place to help customers and passengers when there are delays, such as better quality waiting areas that are always unlocked and warm as sometimes the platforms are very cold and winter mornings are bitter," she said.
Southern Railway was approached but declined to comment.