The owner of a controversial cereal bar that charged £6 for a breakfast has shut up shop and blamed KU for charging too much for advertising. [divider]
Ramon Mullan, the owner of The Cereal Bar on Fife Road slammed Kingston council and the university for not offering free advertising to small businesses in the town.
"When you own a little business and then Kingston University tries to rip you off for advertising, what's the point? Spending thousands on promoting the café was just not viable for me," Mullan said.
The café closed after less than a year of trading and owner Mullan dismissed the business as a "quick money-maker".
"Just to clear things up, The Cereal Bar didn't close down; I sold the space to a friend, who gave me a really decent price, so it's all good," he said.
The 30-year-old business owner from Epsom said that opening a cereal café was a "convenient" and "easy" option for him and he defended his choice to locate it in a student town, despite its high prices.
"I don't regret opening the café in Kingston; I didn't make a mistake with that. It wasn't financially sufficient in the end, though," said Mullan.
"When the café opened, it was a quick fix of money for me. I wouldn't open up another one, I'm pretty much done with that now," he added.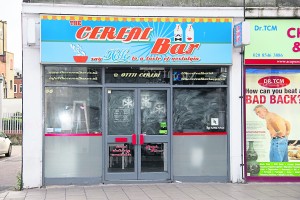 The Cereal Bar was the UK's second café of its kind, opening in February last year, shortly after the Cereal Killer café in Shoreditch became the target of widespread backlash from the media and public.
A mob of around 200 protestors marched through Shoreditch and Brick Lane in September last year, throwing paint at the windows of the 'hipster' café in an anti-gentrification demonstration.
On a Facebook event page for the protest, organisers said they were protecting the working class people of London from "dog-eat-dog economics".
However, at the time of opening, Mullan defended his venture, saying: "My prices are much cheaper and we sell milkshakes, too."
When asked what his thoughts were about people regarding the café as the height of gentrification in Kingston, Mullan said: "Anyone can have their opinion, I don't really take that into account."
With over 100 varieties of cereals, 15 types of flavoured milk and an array of toppings imported from all over the world, the café also sold crisp sandwiches and offered retro gaming nights to its customers.
Wiktoria Rembielinska, a second year drama and film studies student at Kingston University thought that The Cereal Bar was a "quirky" and "interesting" place that was an asset to the town centre.
"Whenever my friends came to visit me I would take them there. It was exclusive to Kingston – something that made the town unique and significant," she said.
"I'm so sad about it closing. It was one of the best places in Kingston. It's really disappointing as I went there the other day and all of a sudden it was closed, with no warning," she added.
Evie Katrakaza, a clinical psychology postgraduate said: "The café seemed kind of cool, it's a shame that it didn't work out. Kingston was a good place to open it up as there are so many students here."
While the cult café was a hit with some KU students, others were simply not willing to fork out "extortionate prices" for novelty cereals and milkshakes.
"It was really quite expensive, I would never pay £6 for a bowl of cereal and I don't think many students would either," said Jamaal Kazmi, a first year economics student.
"Not many people even knew about The Cereal Bar as they didn't advertise it in the way they should have. I'm not really surprised it closed down," said Ali Mohammed, a final year civil engineering student.
"The concept was flawed from the start, and he [the owner] pretty much stole the whole idea from the original cereal café on Brick Lane," Mohammed added.