Kingston qualified two teams for the premier university karting championship after a gruelling eight-race qualifying process in Northamptonshire on November 16. 
Kingston B finished 19th overall after team captain Andrew Hunt opted to race for the second team but Kingston A needed a skilled drive from society president Adrian Jarych to edge through in 22nd position.
Jarych, who finished seventh in the final race after a grid start of 21st out of 35 drivers, said: "I had to finish in at least 14th to qualify but the greasy track conditions suited me because there was loads of understeer, I love racing like that."
The 21-year-old Motorsport Management student finished 17th in his first race after colliding with a back-marker whilst he was fighting for 5th place.
James Mansion also finished 7th in his second race following a tough first round but Andres Bedoya and James Woodthorpe struggled to finish inside the top 20 which meant that Kingston A needed a good result from Jarych in the final 25-minute race to qualify.
Captain Hunt, 21, said: "Many universities stacked their better drivers in their A teams but I decided to race in our B so we can try and get both teams through."
Hunt's podium finish in his final race and the earlier efforts of Sam Righton, James Verity and Jake Belcher, ensured the B team a less stressful qualification process than their Kingston teammates.
Over 100 teams entered the qualifying competition which was split into two days at the Whilton Mill racetrack, with Brunel A winning on Friday and Birmingham's A team emerging victorious on Saturday.
The top 27 teams from each day's qualifier advance to the national championship which begins on February 13 in Kent at the Buckmore Park karting track, where Formula One world champions Lewis Hamilton raced earlier in his career.
Kingston finished in 26th in last year's BUKC championship but Hunt hopes for more consistency in 2018-19: "Last year we were a bit hit and miss, we did win one round and got a podium in some others but this year we want some regular good results."
The 54-team BUKC championships will have four race days which include a round of sprint races and then an endurance race.
Each team races in identical karts that can reach a top speed of 70mph and can go from zero to 60 in under five seconds.
Hunt, who studies mechanical engineering, said: "Endurance racing is our favourite, we won an endurance round last year and we frequently do six-hour races and even did a 24-hour race in Le Mans over the summer."
Kingston's racers must pay over £1000 to enter the two teams for the BUKC championship and despite the student union subsidising the majority of the cost, the team president hopes to find a sponsor.
He said: "The union pay for most of the charges but we also pay £70 each per team and we need to bring our own race suits and helmets."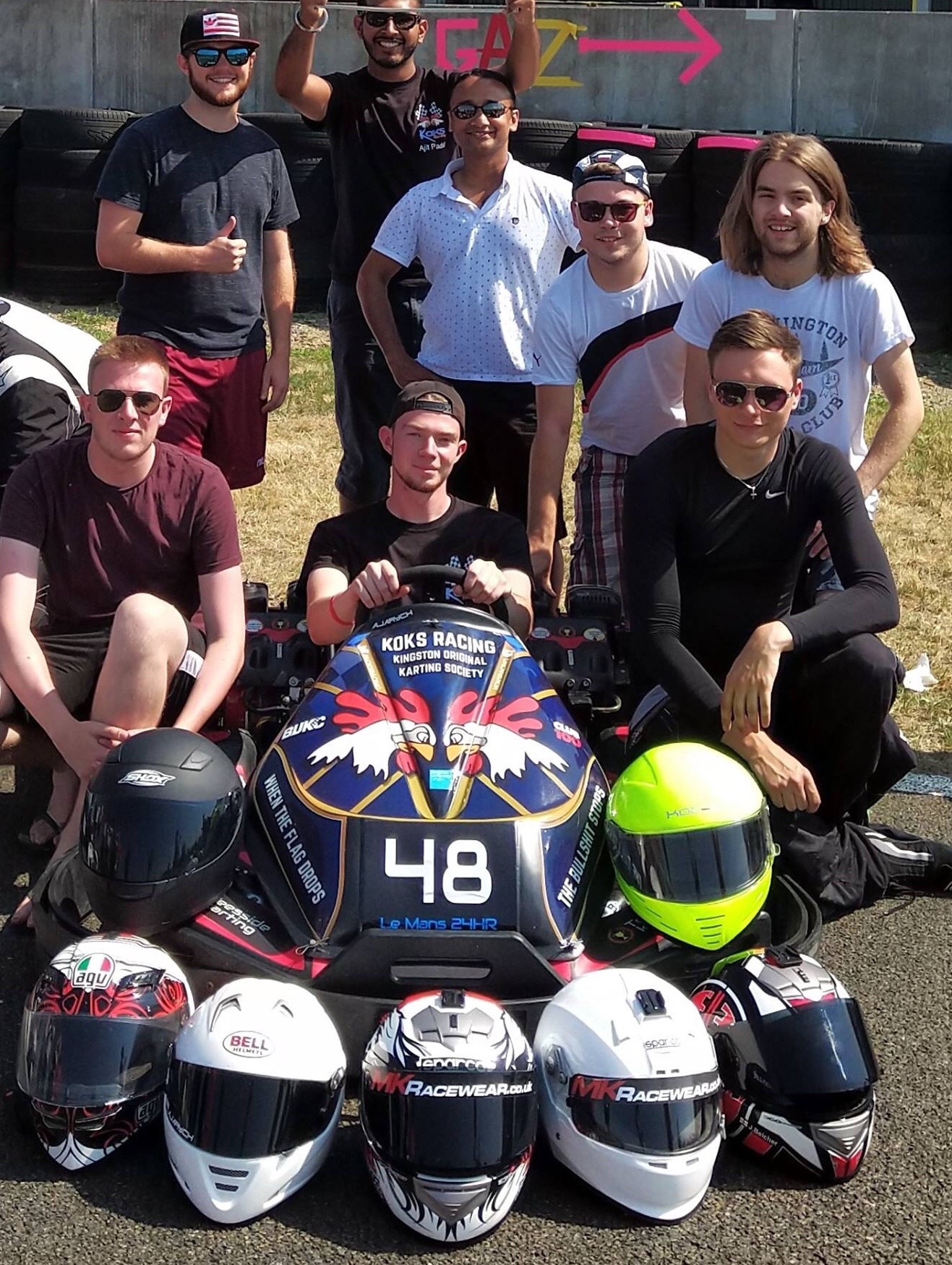 Kingston also hope to field three teams in a varsity competition, where they are defending champions, against Loughborough and rivals Brunel.
The races take place once a month and the team captain hopes that this competition will help give their less experienced drivers some track time ahead of the national championships.
He said: "Last year we managed to train freshers who barely drove a kart before coming to university so we hope we can do the same this year."
BUKC championship races will also take place in Wigan and Llandow in South Wales before returning to Whilton Mill for the season's climax on April 5.