The weekly applause for front-line NHS staff and other key workers that ran for 10 weeks during the nation's first lockdown, returns tonight and will be re-named Clap for Heroes.
The Clap for Heroes now aims to celebrate all key workers, ranging from from teachers to supermarket workers and all NHS staff.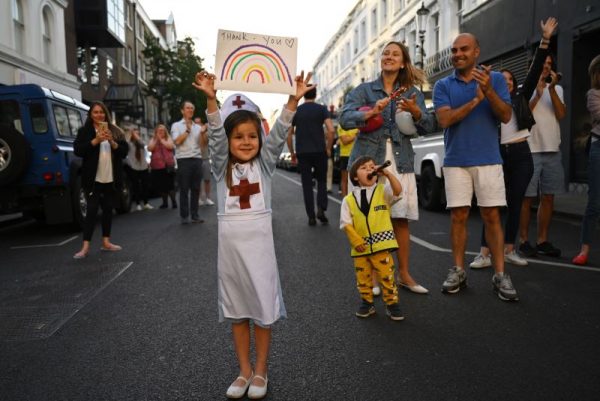 Founder Annemarie Plas tweeted that the clap would return across the nation at 20:00 GMT on Thursday, Plas said: "We are bringing back the 8pm applause, in our third lockdown I hope it can lift the spirit, of all of us."
The idea to clap outside your doorsteps and bang pots and pans together first arrived on March 26, three days after the government announced that the UK would be plunged into lockdown for the first time.
Amelia Barton, 20, a student at Kingston University said that she was proud to clap for key workers during the first lockdown and is now even prouder to be supporting all of the key workers across the country, this time.
When the first round of clapping commenced back in March, the support for the movement was vast causing it to be extended for nine more weeks across the country.

Barton added that even though clapping is only a small gesture, she hoped that key workers who felt discouraged by another lockdown could have their spirits lifted by the nations act of clapping.
Politicians, the Royal Family and celebrities all embraced the movement and showed support to the key front-line workers.
However, the clap later faced criticism for becoming politicised, with many people suggesting that instead of clapping the government should have been providing extra support and funding to those key works instead.
When the series of clapping ended, Plas said that the public had shown its appreciation and it was now up to ministers to reward key workers.
The clap on Thursday evening will once again provide an opportunity to show appreciation for all the key workers and "heroes" who have kept us safe and the country going during this year.