KU women's rugby team have been asked to appear on BT Sport's Rugby Tonight, where they will be part of a play demonstration alongside famous international players from the sport.
"We're all both excited and nervous to go on the show," said President of the rugby team, Ellen McMullen, 21. "I just hope I don't drop the ball because my brother would disown me if I did."
The team are bringing 37 players but just ten will be a part of the actual show, the others will sit in the audience.
Team captain Gemma Briant, 21, said they had chosen the ten players as a reward for the ones who show up to the most practices and games.
"We asked the team who would want to be on the show, and from there I looked at things like commitment," said Gemma.
The team's social secretary, Charlotte Breen, 20, was very excited to get the opportunity to be on national television, and she hoped to get to do the demonstration alongside Brian O'Driscoll.
"The fact that it is a live TV show means there's no room for mistakes, but luckily there's a rehearsal," said Charlotte.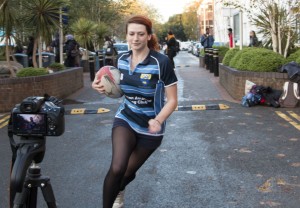 Rugby Tonight is filmed in front of a live studio audience of up to 200 people, with local rugby clubs taking part in demonstrations of play on the studio pitch.
According to BT Sport's website, "celebrities and guest talent take part in studio challenges and there is plenty of fun and banter throughout."
The show airs at 8pm on Monday.