Author and poet Cecilia Knapp, guided Kingston University students through creative poetic introspection at the latest Kingston 'pick up a pen' event.
The workshop focused on Knapp's passion, poetry and was designed to elicit words that otherwise may remain unspoken. It brought a feeling of freedom, devoid of pressure.
The room was set up awkwardly, the short corridors of computers not conducive for flow. Knapp counteracted her environment by establishing a lack of hierarchy: "Just because I am at the front, does not mean I am in charge," she said.
An uncomfortable but friendly icebreaker session ensued with discussions of taken-in stray cats, Sainsbury's crisps shortages and the anxiety of following-up someone's funny introduction. Then an impromptu debate on the questionable teaching style of a certain lecturer (who shall remain anonymous) finally thawed any remaining tension in the room.
The workshop began with a writing exercise designed to inspire mental vomit onto paper. Knapp selected four prompts, taken from her recent reading: a short history of the beds I have slept in; in this autumn cold; night is like a; and I cannot forget. My responses to the prompts in their entirety shall remain with me, but seeing your headspace laid out on the page before you is rather visceral.
The second exercise was about an expansion of the vocabulary, a challenge to the participants to rid their minds of their habitual words. Knapp went around the room asking each participant for a random word, settling on five words ranging from sanitiser to satsuma. Once again, a diatribe of verbiage flowed from my fingers, creating a dark picture of a man I hope bears no resemblance to me.
Knapp lead her participants on a guided exercise, prompts to propose some prose if you will. This exercise was forcefully introspective. Uncomfortably so. Sometimes descending into certain parts of your brain is not what you need at 1pm on a Wednesday.
We as a group spent the next exercise studying the writing of Joe Brainard. A passage from his text, I Remember, was used as a guide to once again get us to access certain aspects of our lives that we might have tried to keep hidden. A traipse through the poetry of Alex McDonald woke me from my introspective slumber. His gorgeous imagery, sparked every creative inch of the body I inhabit as Knapp digresses about the questionable etymology of actor Penn Badgley's name.
It is subtle, the effect the writing has. You find yourself talking to an invisible therapist who is entirely unresponsive and makes you feel like you need to keep telling them more, and before you realise it your entire bank of damaged memories is splayed out on the screen before you.
For Knapp, the workshop is about understanding perspective, not only her own, but the perspective of those she is moulding with her expertise. "I love hearing people's first drafts," she told me, For Knapp, the journey is just as important as the destination.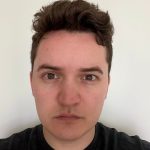 Will Arnot | Comment & Analysis | he/him
I'm passionate about all things sport, food and data, and most often find myself writing about inequality issues inside and outside of journalism.